Mum goes viral after hilariously pointing out what's wrong with this photo of her husband and baby
Publish Date

Thursday, 7 February 2019, 11:23AM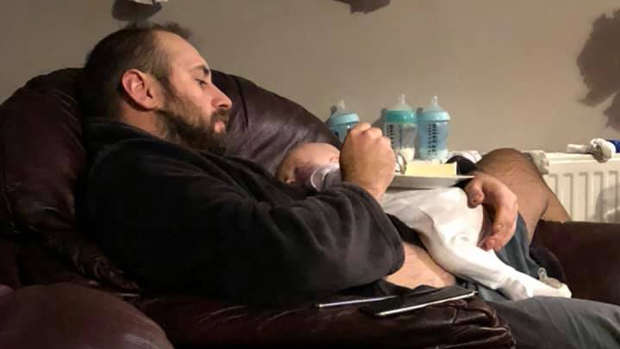 There's no denying a father's bond with a child is very special. 
So when you look at these photos of a father spending time with his newborn baby, you wouldn't be the only one to think they're incredibly precious pictures.
But one mother has left social media in fits of laughter after she lovingly revealed the truth behind the photos - and it's something we can all relate to!
In a hilarious post on Facebook, Elisabeth Henson share the two photos she had taken of her husband Jamie snuggling with their baby Chester and wrote: "Imagine spending £15 on a clear blue test to find out you're pregnant, spending nine months growing your beautiful baby, enduring morning sickness, sciatica and stretch marks, giving birth and having him absolutely destroy everything on the way out, tearing, being injected, being sewn up, having your placenta pulled out with tongs with no pain relief or numbing, and getting up every single night with him since he was born ..."
"For him to be used as a f****** cheesecake table," she concluded.
READ MORE:
• This mum's hilarious "PSA" for parents raising boys will have you in fits of laughter!
• Aussie mum left shocked after her son shares eerie memory of being 'in her tummy'
Her post was met with appreciation from other mums, with one mother writing: "This is brilliant, fairplay!"
Another added: "Best cheesecake table ever made."
"Haha that's what they're for right?," wrote a third.
Surprised by the reaction to her post, Elisabeth told CafeMom she thinks the reason so many parents can relate is because "nobody is the perfect parent."
"Nobody else really knows what a true pregnant woman goes through to get that baby out of her - other than other ladies who have given birth!" she said.
"But I think the main reason why so many parents can relate is because becoming a parent is so scary. You think you're going to do so many things wrong and you are just so in love with your baby you want to be so perfect for them!"
"But the fact is, nobody is the perfect parent. It's so easy to be down on yourself and worry that you're not doing a good job, yet here I am showing the world that my partner is eating cheesecake off my baby and we're having a laugh about it, and it's okay!"
"I'm also showing people I have dirty bottle in the background which I got absolutely bloody roasted for! But it's very down to earth and clearly everyone knows we love our baby, but we are human!"
"But really, everything I wrote about giving birth and having my placenta pulled out - I genuinely wouldn't have been able to do it without Jamie's support," she says.
Amen!