Mum 'shamed' by school over 'bad food' in lunch box causes online outrage
Publish Date

Tuesday, 7 February 2017, 11:52AM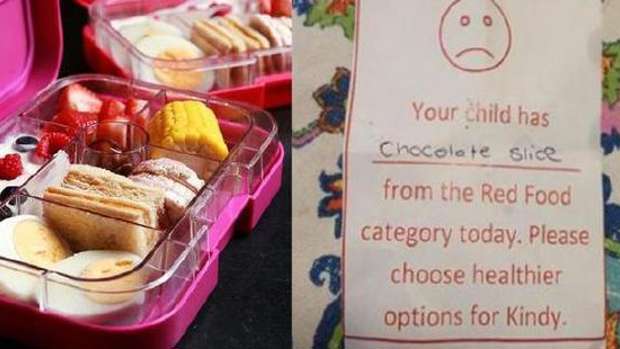 A mother-of-eight who baked her own chocolate slice and sent it to an Australian kindergarten was stunned to receive a note from her 3-year-old's teacher telling her to stop sending it in, Kidspot reports.
Melinda Tankard Reist, from Canberra, shared a picture of the controversial note.
A popular guideline for healthy choices at schools is the traffic light system, which categorises foods and drinks according to their nutritional value. Green being the best, and red food - which includes cakes, confectionery, fats and soft drink - not being recommended.
Melinda said the slice was sent to school after the family had leftover birthday cake.
"They're great parents, very dedicated, very devoted," she said, mentioning both parents work hard on ensuring their children eat healthily, and make everything from scratch.
"My friend felt bad that she has broken the rules. I posted the image because I reacted to it. I support healthy eating, but I'm concerned about where this approach takes us," she says.
There was an enormous reaction on Facebook to the post - with many people believing the teacher overstepped her bounds.
"I would staple this note to the teachers forehead. If you want to police what a parent packs in their child's lunch box, do away with packed lunches all together and provide food at the centre," one dad posted.
A mum wrote; "How do they know it wasn't made from cacao, quinoa and dates? Regardless I don't think it's OK for schools to be policing food choices. Guidelines should be presented but then it should be up to parents decision"
"I think the way it's delivered is humiliating. Why not send home a letter to all patents saying what's allowed and what's not. Don't make parents feel like they are kindy kids!"
But other parents defended the message in the letter.
"A poor method of communicating their concern to the parents, but the early childhood national quality framework actually states that healthy eating needs to be embedded in their program. This is a part of the standards for remaining an accredited placement," one wrote.
Another said, "I don't have a problem with it. They are doing their best to encourage healthy eating and have to start somewhere.