Mum shares heartbreaking photo of six-year-old daughter in hospital as a result of bullying
Publish Date

Friday, 2 November 2018, 9:59AM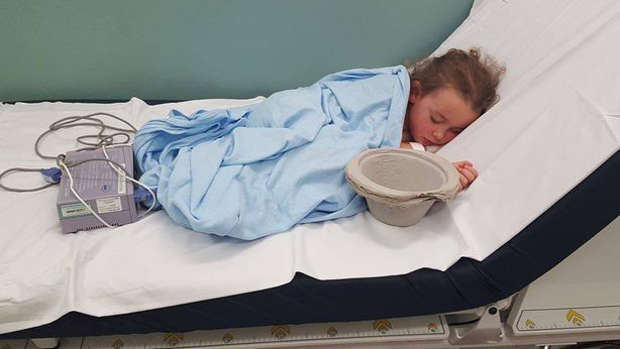 A British mother has shared a heart-rending photograph of her six-year-old daughter in hospital in an effort to show the damage bullying can cause.
In a post shared on Facebook, Carrie Golledge revealed how her daughter vomited "20 times an hour", would "cry non-stop" from when she came home from school and developed "severe anxiety".
The photo isn't easy viewing: Sophia is seen curled up on a hospital bed, with a sick bowl in front of her.
The mum-of-three said Sophia would feel anxious about going to school and would be up all night with a "violent upset stomach" as she struggled to cope with the torment from one cruel girl who would tell her what she could eat and would stop other children from playing with her.
Now Carrie wants to show just how damaging bullying can be.
"Things were so bad by the end of the summer term that Sophia was out of school for a couple of weeks because her sickness was so severe - she would be up all night and vomiting 20 times an hour," Carrie said.
"She'd be in so much pain and because her upset stomach was so violent, it would lead to a water infection and her body struggled."
"We've had her in hospital with high fevers which they've struggled to control."
READ MORE:
• 13-year-old boy makes moving video about tackling cyber-bullying
• Mum forces daughter to wear same clothes as punishment for bullying
Carrie claims that when Sophia told school staff what was happening, they told her to "play with someone else".
The heartbreaking post, which has been shared more than 250,000 times, has had a huge response from other parents.
"I've had messages from people I don't know. This is happening to too many people and it's so wrong," Carrie said.
"I've had thousands of messages in my inbox from parents thanking me for sharing the story because their child is going through it."
She continued: "I've had people tell me their five-year-old tried to take their own life because of bullying. It's just so heartbreaking to see all these messages. There are just too many people letting children down."
Sophia has now started at a new school and is much happier.
Carrie's gut-wrenching post in full:
This is what bullying does...
This is my 6 year old daughter, hospitalised, due to bullying...
This is my child with such a caring heart that despite being so ill "doesn't want anyone to get in trouble"...
This is my child who has stopped eating, has cried herself to sleep, had anxiety so severe she's up sick over 20 times in an hour through the night...
This is my child whose 'best friend' has emotionally abused her for so long she thought it was normal...
This is my child who has been in and out of hospital for countless trips due to being so sick with anxiety...
This is my child who was told off for 'telling tales at school'...
This is my child who has been mocked on social media by the bullies parents for just having such a pure heart...
This is my child who when addressing the issues with her school we were told "Its just 6 year olds being 6 year olds"...
This is my child who was told by the school she should be the one feeling ashamed and be snuck in a side door of a morning...
This is my child who her school failed her so badly that we had to move her schools...
#beatthebullies #timeforchange