New Zealand's community Covid-19 cases identified as the UK variant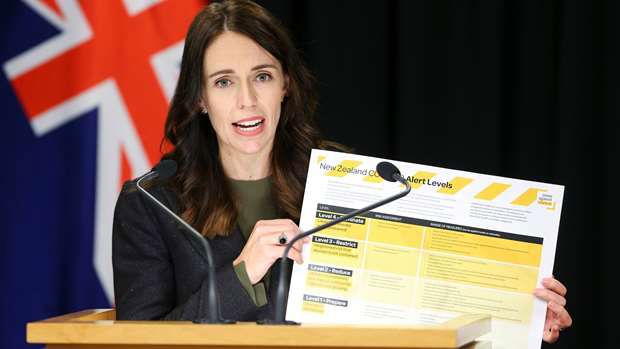 New Zealand's three new community Covid cases have identified as the UK variant of the virus and they have not been linked to any managed isolation or quarantine case, Prime Minister Jacinda Ardern said today.
But she said it was too soon to say whether Auckland would come out of level-3 lockdown - or New Zealand out of alert level 2 - as early as Wednesday night.
Auckland moved to level 3 for at least three days at 11.59 last night, with employees asked to work from home, students urged to stay away from school and police setting up checkpoints at eight locations at the region's border overnight.
Officers are checking all vehicles arriving and leaving Auckland to ensure there is no non-essential travel. Alert level 2 is less restrictive. (The full list of rules are detailed below).
Ardern told Newstalk ZB's Mike Hosking today that the link to the British variant had led officials to think the virus might have come through airport transit or it had stemmed from an international airline crew member.
There are three new Auckland community cases - a mother, father and daughter from Papatoetoe. The mother works at LSG Sky Chefs, where she handles laundry from international flights.
"We do still have people who transit through New Zealand and fly on to other destinations. They stay airside but of course, it means they are using the things that go through the laundry at this individual's place of work," Ardern told Newstalk ZB.
"The other possibility is that it's international airline crew... they also do the laundry of a couple of international airline crew. And so, that is also one of the possibilities."
It was still possible - but unlikely - the new cases had come from an MIQ case which hadn't been sequenced, said Ardern.
She told Newstalk ZB that the news of the UK variant didn't necessarily mean Auckland would spend longer in level 3.
Health officials were looking into cases in Australia to see if there was a link there and she told RNZ that officials would also be contacting international airlines to check their crews' infections to try to trace the source.
Ardern said the most likely scenario was always human to human but it was important to rule out as many avenues as possible - even if they never found the source.
The key to the decision whether to shift alert levels would be whether it appeared there would be limited community spread. She said Cabinet opted for the three-day lockdown in a "very genuine way".
Ardern told Newstalk ZB that officials would look to ramp up testing up today. As soon as negatives started coming through they could start to have some confidence the virus had been contained.
She said sewage testing in south Auckland on February 10 had not shown up any Covid in wastewater, "so that gives us another bit of a layer" in a decision.
Ardern said she didn't think the latest cases were another failure to test border workers. Even if the woman was tested on February 1 as part of her fortnightly cycle - she was instead tested on February 5 after taking annual leave - her case might not have been picked up. The testing ran hand in hand with education programmes and the key was getting tested as soon as they were symptomatic.
It was "too soon to make a judgement" either way about what decision would come Wednesday but it was the right decision to lockdown Auckland because it was confirmed the family had the UK variant, said Ardern.
Tracing the source
Otago University epidemiologist Michael Baker cast doubt that Covid could be spread through laundry. "It would be very unusual this virus was transmitted on a surface like that. And in fact, I don't think it's been documented anywhere. And we're still really looking at transmission from, you know, via droplets or aerosols from contact with someone.
"It's really hard to know. I mean this is what the next few days are going to tell us and that's why, obviously we're going for a lockdown because we don't know about the other potential cases in the community."
He supported the Government's approach this week and said the vaccine rollout - frontline workers will be the first to start getting jabs this weekend but most of the population won't be vaccinated until the second half of 2021 - would help sustain the elimination approach.
Police set up road-blocks
Meanwhile, police have already set up road-blocks at eight locations on Auckland's border and are checking vehicles coming into and leaving the region this morning.
Cars on the Southern Motorway were bumper-to-bumper in some spots last night as many residents looked to flee the lockdown.
"Eight checkpoints on the outskirts of Auckland will be stopping vehicles and questioning drivers, ensuring there is no non-essential movement through the region," said Police Commissioner Andrew Coster. "From midnight, anyone attempting to travel across the regional boundaries should expect to be stopped and asked for proof of essential travel. The exemption process will run the same way as it has previously."
It is expected travellers will be given some leeway today.
Ardern urged people to limit their travel and said she would be asking all her Auckland-based MPs to remain in the city.
Meanwhile, Australia has suspended its quarantine-free travel bubble for New Zealanders arriving into the country. Kiwis will now have to quarantine for 14 days. The situation will be reviewed in three days.
The dramatic developments came as the Auckland family - the mother, father and daughter - tested positive for Covid-19 and are considered community cases.
The daughter attends Papatoetoe High School and a testing site is being set up there today. The school is closed today and tomorrow.
In an emergency press conference last night, Ardern confirmed Auckland would be at alert level 3 as of 11:59pm. It will stay at this level for at least three days, and Cabinet will review the setting every 24 hours.
Another press conference will be held at 4pm today.
The rest of the country has moved to alert level 2 for the same period of time – until midnight Wednesday.
RULES AT A GLANCE (FULL DETAILS, SEE END OF STORY) LEVEL 3: Auckland
- Stay at home and work remotely if possible
- Schools and daycare can open but parents encouraged to keep children home
- Gatherings restricted to 10 people, but only for weddings and funerals
- Travel restrictions with borders around Auckland
- Public venues such as libraries, pools and playgrounds closed
LEVEL 2: Rest of New Zealand
- People can still go to work
- Schools and daycare remain open
- Gatherings restricted to 100 people
- Travel into Auckland restricted
Auckland University Professor of Medicine Des Gorman told Newstalk ZB's Kate Hawkesby today that the latest cases highlighted the country had not had a proper debate about the level of acceptable risk around alert levels. Other recent cases had not sparked this level of response.
"Why are we still isolating high-risk returnees in the middle of our largest city? This is simply nuts. We are putting our livelihoods and wellbeings at risk because we are simply not managing the level of risk that we currently have appropriately. We haven't thought through the risk we are prepared to live with. If level 3 is the right reponse then they shouldn't have been quarantined in Auckland."
Ardern said she was asking Aucklanders to stay home as it is the "right thing to do". "We have stamped out the virus before, and we will do it again."
The call was made by Cabinet after an emergency meeting on Sunday.
Mother, father and daughter test positive
The moves have been sparked by the emergence of the three new community cases in the family, who live in South Auckland's Papatoetoe.
Director-General of Health Ashley Bloomfield believes the mother – who works at airline supplier LSG Sky chefs in Mangere – was the first to contract the disease. She works directly with laundry from aircraft.
There are still many unknowns and officials will work around the clock to find answers, including how the mother contracted the virus.
Ardern said the Government had again decided to go hard and early, as it was a tactic which had worked well in the past.
The new level 3 rules in Auckland meant everyone who was not an essential worker should stay home. That means schools across the city will be closed.
Ardern said supermarkets and petrol stations would remain open; she told Aucklanders there was "no need to rush out and get essential items".
The level-3 rules mean that the Prada Cup racing that had been scheduled for Wednesday between Luna Rossa and Ineos Team UK has been postponed.
And any other event over scheduled to go ahead in the next three days will also have to be cancelled. Level 3 restrictions mean there can be no gatherings of more than 10 people unless they are for weddings funerals and tangihanga.
That number is 100 for the rest of the country, but both Ardern and Bloomfield were advising people to "be vigilant".
Over the coming days, Ardern said officials would be working to figure out as much about the new cases as possible.
That includes undergoing another testing blitz in Auckland to find out how extensive the community transmission may have been.
Testing at Papatoetoe High School
A focal point will be on Papatoetoe High – the school that the daughter, one of the new confirmed Covid cases - attends.
Papatoetoe High School principal Vaughan Couillault said yesterday the pupil had only been at school for one day last week.
Ardern said the Government was taking no chances – it has set up a pop-up testing station for students, parents, teachers and staff members to be tested.
There are 1400 students at the school.
And as the testing blitz begins, so too does the investigation into how the mother contracted Covid-19.
Although she worked at LSG Sky Chefs – one of the world's largest airline catering providers – Bloomfield revealed the woman did not handle any food and it was mostly laundry.
She was receiving regular tests every two weeks but, as she was on annual leave, she did not have one more recently.
"Our understanding is they were tested on January 18 – that would have meant they would have been retested on the February 1 but they were on annual leave during that period," Ardern said.
That means the next time they were tested was when they were symptomatic.
Ardern said those testing regimes – which are the job of the employer – "should be maintained" and this is something the Government will be looking into.
Bloomfield said it was too soon to say much about the case, as officials were still doing the genomic sequencing.
But he said it was likely either the South African, or UK variants.
Level 3 rules
* You legally must stay within your household bubble whenever you're not at work or school. You can expand this to connect with close family and whānau, bring in caregivers, or support isolated people. It's important to protect your bubble. Keep your bubble exclusive and only include people where it will keep you and them safe and healthy. If anyone within your bubble feels unwell, they legally must immediately self-isolate from everyone else within the bubble.
* Do not invite or allow social visitors, such as friends, extended family and whānau, to enter your home
* Gatherings of up to 10 people can continue, but only for wedding services, funerals and tangihanga
* Public venues legally must close. This includes libraries, museums, cinemas, food courts, gyms, pools, playgrounds and markets.
* Where possible the Ministry of Health encourages students to learn from home. Schools can safely open but will have limited capacity.
* You can travel within your local area, for example going to work or school, shopping, or getting exercise. Public transport can continue to operate with strict health and safety requirements
* Travel between regions is heavily restricted
* You should keep a distance of at least two metres in public and retail stores, like supermarkets and one metre in controlled environments, like workplaces and schools
* You're strongly encouraged to wear a face covering when you're outside your home and in a place where it's hard to stay two metres away from other people, like in shops. You legally must wear a face covering on public transport.
* If your business requires close physical contact it can't operate
* The Ministry of Health recommends your staff work from home if they can
* Businesses need to display a QR code and have an alternative contact tracing system
* The Ministry recommends making sure people either scan in or provide their contact details
* Customers cannot come onto your premises — unless you are a supermarket, dairy, butcher, fishmonger, greengrocer, petrol station, pharmacy or permitted health service
* Your business legally must be contactless. Your customers can pay online, over the phone or in a contactless way. Delivery or pick-up legally must also be contactless
* Basic hygiene measures legally must be maintained. Physical distancing, hand washing and regularly cleaning surfaces. Workers legally must stay home if they are sick
* Staff legally must remain a minimum of 1 metre apart at all times where practical. The ministry recommends other measures, such as PPE including face coverings, being used where appropriate.
* Different advice applies to essential healthcare workers, border agencies, courts and tribunal staff, first responders and corrections staff. You can get further advice from the Ministry of Health
* You legally must meet all other health and safety obligations.
Level 2 rules
* No more than 100 people at social gatherings, including weddings, birthdays, funerals and tangihanga
* Businesses can open, but they legally must follow public health rules. These include physical distancing and record keeping.
* Alternative ways of working are encouraged where possible
* Talk with your staff to identify risks and ways to manage them.
* Ask everyone — workers, contractors and customers — with cold, flu or Covid-19 symptoms to stay away from your premises
* Keep workers one metre apart and customers in retail businesses two metres apart
* Businesses are legally required to display a QR code and provide an alternative contact tracing system
* Face coverings are strongly encouraged if you are in close contact with others
* Reduce the number of shared surfaces, and regularly disinfect them. Wash your hands.
This article was first published NZ Herald on the and is republished here with permission.