Octomom Nadaya Sulman admits it was 'foolish, selfish' to have 14 kids
Publish Date

Friday, 22 December 2017, 10:30AM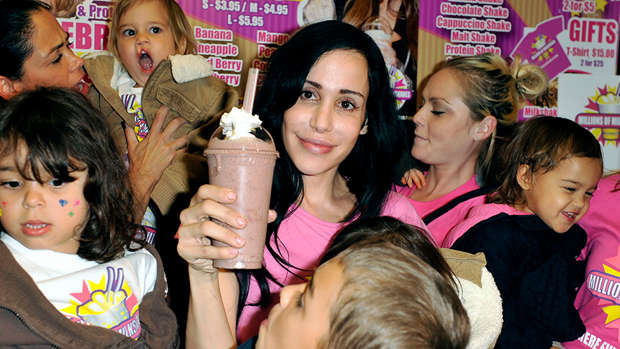 "Octomom" Nadya Suleman says she is now finally "at peace" after her financial problems and strain of trying to look after her 14 children led her to the brink of suicide.
Now, the controversial mother who gave birth to octuplets after in vitro fertilisation (IVF), wants to share her story and personal battle with other women, hoping it will inspire them.
Nadya, 42, who now goes by the name of Natalie, has also turned her back on her media persona of "Octomom" who she says "nearly destroyed me and my family".
Speaking to DailyMail.com she revealed: 'Every day I would wake up with the most ugly, dead, visceral feeling inside of me.
"I didn't want to live. I felt less than human as that character I was pretending to be, to survive and provide for my family.
"What she was disgusted me and I did not want my children to remember me like that. I was forced into doing things I didn't want to do because I was so terrified I couldn't support them.
"When I abandoned it and went back to who I really am I had that sense of peace, internal joy.
"Struggle is the best teacher. I have become more grateful for every minute of every day – little moments, not material things, can measure up to those times I have with my family."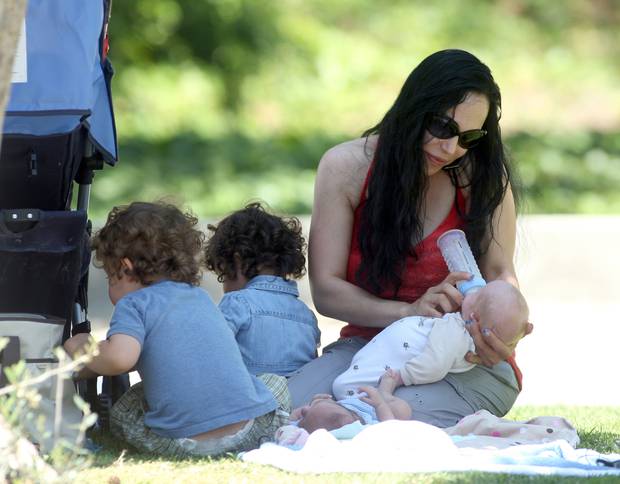 Photo / Getty
Natalie became infamous in 2009 when it was revealed she had undergone IVF treatment to become pregnant with eight children, even though she was already a mother of six and unemployed.
Her notoriety led her to do a pornographic film, which saw her win four Adult Video Network (AVN) awards, and appear in strip clubs.
Recalling the moment she realised she had to turn a corner she said: "I was so low I was taking prescription drugs, benzodiazepines.
"I had to medicate to just get through what I was doing. I would mix it with alcohol which I later found out was what Whitney Houston died from.
"I didn't want to be here anymore, but then I thought about my children and just had to keep going for them."
She told how her breaking point came after she was approached by a stranger one night while she was working as a stripper.
"I was in a strip club in Florida in February 2013, and this very tall man, this stranger came in. He walked straight to me and looked straight into my eyes.
"He took my hand and grabbed my arm and said in a very gentle but firm way: 'You do not have to do this.' He repeated it five times.
"I couldn't control the tears that were streaming down my face. I had that ugly feeling of nausea. I looked down for a moment, and looked up and he was gone," she says.
Natalie says she thought it was possible the man could have been "an angel" and she decided to make a change: "I knew I had to be my healthy self again. I didn't want my kids not to have a mom."
Natalie has six children from her first five rounds of IVF – Elijah, 16, Amerah, 15, Joshua, 13, Aiden, 11, and 10-year-old twins Calyssa and Caleb.
The octuplets, Makai, Josiah, Isaiah, Jonah, Maliyah, Jeremiah, Nariyah and Noah turn 9 in January, and are the only surviving set in the world.
To try to give them a more stable upbringing she moved the family back to Laguna, in Orange County, California, where she had grown up.
But as she tried to get her life on track, in 2014 she was found guilty of welfare fraud, and ordered to do community service.
Natalie says she was innocent, and claims her management was to blame: "The only thing I was guilty of was being desperate and trusting.
"I gave them my cards and chequebook and that is what happened. I was trying to manage my children instead of my money. The fraud, was totally expunged thankfully."
Now Natalie works part time as a counsellor, speaking to men and women who suffer drug and alcohol issues.
She says despite caring for 14 children on her own, she is not looking for a partner: "That's just not me. My calling was to be a mom. I am happiest at home with the kids. And I knew when I did this I would be sacrificing a social life. But that's OK because I'm not social."
She confessed she was "very foolish, immature and selfish" to have 14 children, and didn't really think through the consequences: "I was on a mission. I just wanted to have a bunch of kids. But I couldn't imagine my life at this point in time any different than it is."
Natalie admits things are tight but she helps feed the family with food stamps.
The octuplets follow a vegan diet, but her other six children are "omnivores".
She said: "We live paycheck to paycheck. It's a struggle every day. I am very grateful for food stamps, and I do get some residuals from that horrible porn thing. But I am not worried."
The family live in a two-bedroom townhouse in Laguna Niguel, California and have converted the office into a third bedroom so all her children have beds to sleep in.
She says they "fight, play, fight and play again" like any normal family.
A lot of the children are "shy and introverted", taking after their mom.
And she revealed that the octuplets know that their home life is different to most households: "The whole family, we are all kind of different. The kids say, 'oh are we weird somehow?' and I say, 'it's OK to be different if there is nothing wrong with it'. The kids are happy and that is all that matters.'"
Natalie's son Aiden, 12, is autistic, which adds another dimension to family life.
She says his siblings help look after him: 'Aiden is a challenge. But the other children, they are like his guardian angels.
"His brother Makai, he literally shadows him, and helps give him bites of food – they have a very special bond.
"Aiden has the mind of an 18-month-old, he's still non-verbal and in his diapers 24/7.
"I am open with the kids and I teach them about autism."
Natalie's son inspired her to write her book which she is hoping to get published.
"Originally it wasn't a memoir, it was about raising my son with disabilities and the challenges. But the little kids made it a lot more interesting," she says.
"It's a story that needs to be told and I think it will encourage a lot of women to draw up strength they didn't know they had.
"I believe it will help inspire women to keep pressing forward despite the pain and suffering they may be experiencing. If you set a goal you can achieve anything."
If you're in danger NOW:
• Phone the police on 111 or ask neighbours of friends to ring for you.
• Run outside and head for where there are other people.
• Scream for help so that your neighbours can hear you.
• If you are being abused, remember it's not your fault.
Where to go for help or more information:
• NZ Police
• Help Auckland 24/7 helpline 09 623 1700
• Rape Prevention Education 
• Wellington Help 24/7 crisisline 04 801 6655, push 0
• Male Survivors of Sexual Abuse
• Women's Refuge: Free national crisis line operates 24/7 - 0800 REFUGE or 0800 733 843 www.womensrefuge.org.nz
• Shine, free national helpline 9am- 11pm every day - 0508 744 633 www.2shine.org.nz 
• Shakti: Providing specialist cultural services for African, Asian and Middle Eastern women and their children. Crisis line 24/7 0800 742 584
• White Ribbon: Aiming to eliminate men's violence towards women, focusing this year on sexual violence and the issue of consent. www.whiteribbon.org.nz
This article was first published on Daily Mail and is republished here with permission.