PM Jacinda Ardern reveals changes to New Zealand's Covid-19 settings, vaccine passes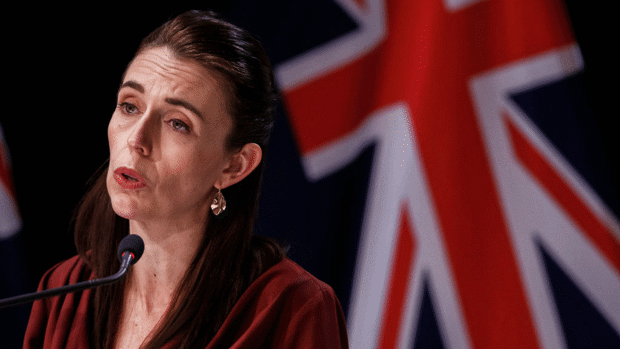 The Government is unveiling changes to the red traffic light setting, removing all limits on outdoor gathering limits.
The number of people allowed to gather inside increases from 100 to 200 under the red light traffic setting.
Masks will continue to be used, but today's move means outdoor concerts, sports and other outdoor events would be able to resume under the red setting.
The changes will kick in from March 25, Prime Minister Jacinda Ardern said.
At the orange setting, more gathering guidance would be coming. Close contact was a high risk, so larger events of more than 500 people would be encouraged to provide more capacity or seating.
On vaccine passes, Ardern said Omicron had changed things since vaccine passes were first introduced.
From 11.59pm on Monday 4 April, vaccine passes will no longer be required to be used.
Some venues and events may still wish to use them, but they will no longer mandated - that could change if a new variant meant they were needed again.
The 180,000 unvaccinated Kiwis are likely to appear to have Covid or catch it in the future, she said, meaning a much higher level of population immunity beyond those who are vaccinated.
"We may need them again, but for post-peak, that will no longer be the case."
On QR codes and scanning, Ardern said there was less need to contact trace as widely. From this weekend, no longer required to scan wherever you go.
However, she said if a new variant did come along and contact tracing was needed, she asked people to be ready to adopt it again.
On vaccine mandates, she said Cabinet had always been cautious about their use.
As vaccination rates increased, they asked David Skegg for advice - that advice was that the case for and against was more finely balanced with high rates of vaccination.
The Government will not require mandates in education, police or Defence Force workers and those workplaces using them from Monday 4 April.
Two years of Covid in NZ
Ardern says it is easy to lose sight of how far New Zealand has come - two years ago today there were 36 new cases of Covid-19 and we could only contact trace 50 cases a day.
She said she would always remember one of the community cases on that day - the Wairarapa case - because they could not find a link to any border cases.
"It was the first sign we had community transmission. Within days we were in a nationwide lockdown."
She said in her mind that lockdown was not a hard decision - there was no vaccine, no anti-virals.
"We built our own defences. But those defences were blunt, they were tired and they were temporary."
She said the transition had not been easy, but it had been effective. "Our actions saved thousands of lives."
Economically New Zealand was also holding up, "But while we have been successful it has also been bloody hard."
She said some people have had to give up more than others and most families had confronted difficult discussions about vaccines, mandates or other Covid-19 response elements.
Ardern believed New Zealand was "tired" but still together.
She said the next steps were designed keeping in mind that Covid was here to stay.
For most in the Omicron outbreak, symptoms were mild. Experts believed we had peaked in Auckland now, and that would be reflected in hospitalisations soon. The rest of the country would follow, given Auckland was first to get the outbreak.
The ongoing presence of Covid in the community for the foreseeable future meant tools were still needed to protect the most vulnerable and to try to slow spread.
That meant keeping the traffic light system in place.
For more information visit covid19.govt.nz.
This article was first published on the NZ Herald and is republished here with permission.