Pregnant news presenter hits back after viewer calls her 'disgusting'
Publish Date

Tuesday, 25 July 2017, 3:48PM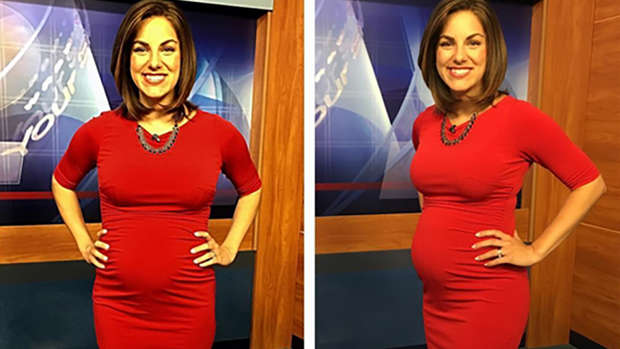 Last week a pregnant news anchor received a nasty voicemail from a viewer telling her that her baby bump makes her looks "disgusting."
Laura Warren of WRDW-TV was checking a tip hotline when she received a voicemail telling her that her clothes were too tight and that she was getting too big for TV.
"Please go to Target and buy some decent maternity clothes so you don't walk around looking like you got a watermelon strapped under your too tight outfits," the caller stated.
"Target's got a great line of maternity clothes in case you've never heard of such a thing. You're getting to where you're being disgusting on the TV."
Warren then posted the message on her blog to showcase the incident and explained that having a job in the limelight during one of the most emotional times of her life was hard enough without the added criticism.
Warren wrote: "Most days, nothing would please me more than staying in my stretchy maternity yoga pants, not a hint of makeup on my face, a bucket of fried chicken in my lap ... but, I picked a career that doesn't exactly allow for that. There are no 'ponytail' days."
The presenter describes herself as thick-skinned and considered just deleting the message and ignoring it, but felt compelled to do something.
"I'm pregnant, hormonal, currently not allowed to drink wine, and feeling extra in touch with my feminist side," she said.
Warren then went on to express her concerns about the bullying culture in society and suggested that those targetted should fight back with kindness.
"​I think instead of letting this lady get me down, I'm just going to turn her negative energy into positive energy. I'm going to say as many nice things as I can to as many people as I can, and I'm going to do it in a dress that fits these beautiful new curves with my 'watermelon' stomach showing."
Here in New Zealand our presenters aren't immune to receiving harsh criticism about their baby bellies either.
In 2016 a Lower Hutt man sparked outrage when he wrote into the TV Guide demanding pregnant presenters be "taken off the air."
Kiwis rallied around presenters Jenny-May Clarkson and Renee Wright, showing their support for the pregnant pair.
This article was first published on nzherald.co.nz and is republished here with permission.