Pregnant woman gets slammed after sharing her list of rules family must follow when they visit her newborn baby
Publish Date

Thursday, 25 January 2018, 1:41PM
There's a lot to learn when you're a new mum.
While it's a truly wonderful time, it can also be VERY overwhelming.
But one mum-to-be has been absolutely slammed after sharing her plan to keep things under control following the birth of her baby.
The woman - who is due to give birth in March - took to BabyCentre to reveal a list of rules family and friends must follow when they come to meet the new arrival.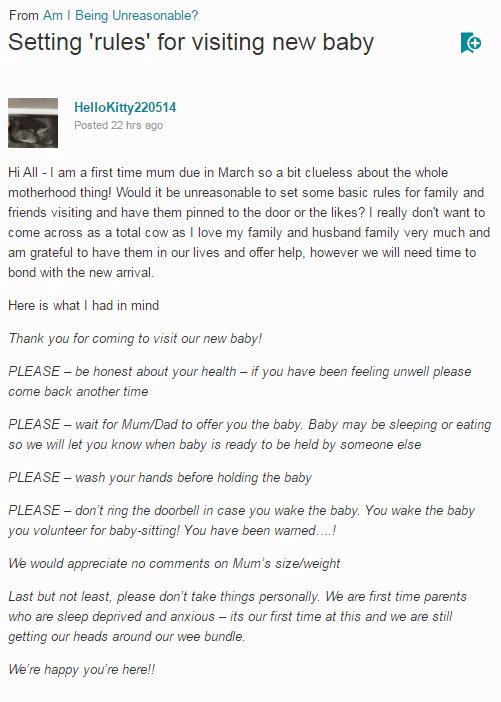 And it's safe to say her rules did NOT go down well.
She asked: "Would it be unreasonable to set some basic rules for family and friends visiting and have them pinned to the door or the likes?
"I really don't want to come across as a total cow as I love my family and husband's family very much and am grateful to have them in our lives and offer help, however we will need time to bond with the new arrival."
Parents were quick to say she was taking things too far...
"You don't need to pin a note to the door, it's OTT (over the top) and way too formal," said one user.
Another wrote: "Personally I really wouldn't do that. If I turned up at someone's house and that was on the door I would seriously laugh and then not bother visiting."
A third asked: "Do you really need to tell people comments on size and weight are not welcome??? As things come up, you can always address them as and when at the time."
"Don't do this. It's over the top. Just speak to people. And you may feel differently once baby is here. Good luck," more advised.
What do you think?