Pregnant woman shares hilarious outfit fail ... and it is SO relatable!
Publish Date

Thursday, 21 February 2019, 1:17PM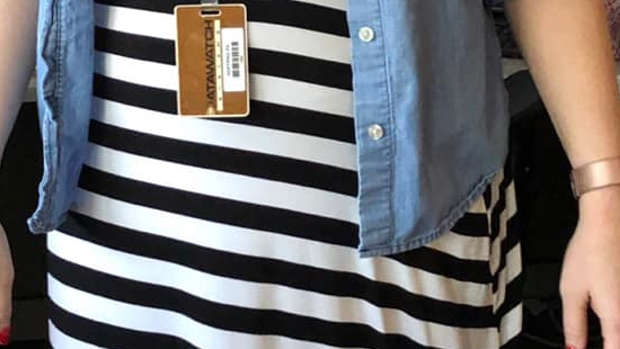 One mum-to-be had us in fits of laughter this week after she shared her hilarious wardrobe mishap on social media.
Lori Farrell - who is expecting a baby girl - was excited to wear a cute black and white striped skirt to work that was gifted to her by a friend ... except it wasn't actually a skirt.
Nope.
The expectant mother was actually wearing a baby's car seat cover.
Taking to Facebook to share her hysterical story, Farrell posted a side-by-side comparison of her wearing the skirt next to a photo of the product from the website where it's sold.
"If you feel like a failure today, just know that I wore a car seat cover a friend gave me because I thought it was a skirt," she wrote alongside the image, adding a string of laughing emojis.
Since going viral, Farrell explained a friend had given her a bag full of secondhand "baby stuff she was getting rid of".
"I came home with a car full that day of enough baby clothes to cover our little girl's first three months. She also gave me a pregnancy pillow, a rock and play, toys, shoes, baby carriers, etc. So when I pulled out the striped thing, I wasn't really sure what it was."
"I thought the gathered sides were 'ruching' and that it was a maternity skirt ― except I thought the tag was oddly placed in the front," she said.
"I turned the skirt around to hide the tag and headed to work."
READ MORE:
• These 20 hilarious birthday cake FAILS will bring tears of laughter to your eyes!
• Kiwi woman shares hilarious photo of her online shopping fail
"Then when I got to work I was laughing with a coworker about it and decided to google the brand and realised they did not in fact even sell clothing."
Indeed, Itzy Ritzy sells accessories like diaper bags and teething necklaces. Just not skirts.
Farrell's 'skirt' was actually the 'Mom Boss 4-in-1 Multi-Use Cover,' which parents can use as a cover for car seats and shopping carts, as well as a nursing cover.
Yeah, that's totally something we would do!
It looked super stylish and cute.