Prince George, Princess Charlotte and Prince Louis speak in adorable rare video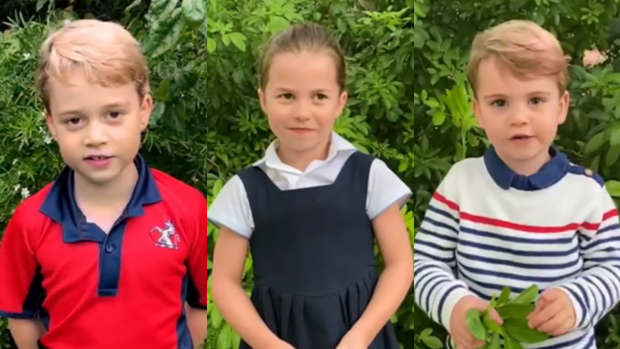 Prince William and Kate Middleton have really raised some adorable royals!
In a sweet new post on the official Kensingtonroyal Instagram account, Prince George, Princess Charlotte, and Prince Louis appeared in a rare video to ask some important animal questions of Sir David Attenborough.
The seven-year-old future king was up first asking, "What animal do you think will become extinct next?"
To which Attenborough replied:  "Well let's hope there won't be any. Because there are lots of things we can do when animals are in danger of extinction. We can protect them."
Meanwhile, five-year-old Princess Charlotte revealed her love for spiders, asking: "I like spiders, do you like spiders too?"
"I love spiders, I'm so glad you like them!" the documentarian replied.
"I think they're wonderful things," he added, asking the young princess, "Have you ever watched one trying to build its web? That's extraordinary."
Finally, Prince Louis, who is just two years old asked, "What animal do you like?"
"I think I like monkeys best," Attenborough answered. "Because they're such fun. They can jump all over the place... And they're so funny. And I like them a lot."
The video marks one of the first times the public has gotten to hear the voices of the young royals, and well, they are just so cute!
This comes after Attenborough visited the royals, and gifted Prince George a 23 million-year-old giant shark tooth.
Elsewhere, the Duke and Duchess of Cambridge were delighted to come face-to-face with a rescue koala on Zoom.
The royal couple spoke to first responders and local business owners from Kangaroo Island in Australia to hear about the impact of the wildfires which hit the region in January and were happy to catch a glimpse of marsupial Grace, who is being cared for at a wildlife park after being hit by a car.
As park owner Dana Mitchell took the creature out of her enclosure to introduce her to the couple, Catherine exclaimed: "Oh look! So sweet."
Prince William smiled and said: "She looks very well looked after, I have to say. Grace looks like she has a very nice life there."
The couple - who last visited Australia in 2014 - appeared shocked when Dana told them that the bushfires, which affected around 48% of the island, had seen the koala population decrease from 60-80,000 to an estimated 5-10,000.
- The Hits, additional reporting Bang! Showbiz