Prince Harry opens up about therapy, royal life and Meghan Markle on Dax Shepard's podcast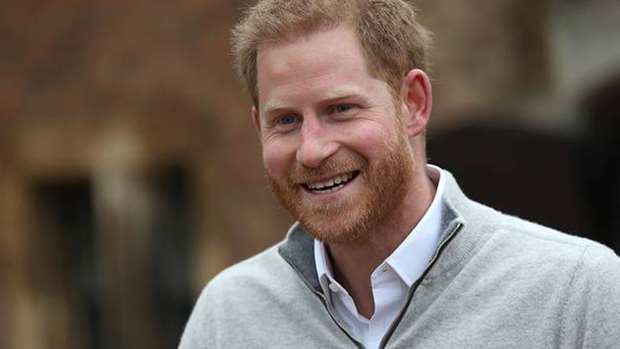 Prince Harry doesn't want to "pass on" his "pain and suffering" to his children.

The Duke of Sussex has two-year-old son Archie – as well as a baby girl on the way – with his wife, Meghan, and has said he wants to make sure he "breaks the cycle" by not putting the same pressures on his children that he faced when he was young.

Harry suggested his father, Prince Charles, may have passed down some "pain or suffering" to him following the death of Princess Diana in 1997, and said he wants to make a conscious effort not to do the same to his own brood.

Speaking during an appearance on Dax Shepard's 'Armchair Expert' podcast, he said: "There is no blame. I don't think we should be pointing the finger or blaming anybody.

"But certainly when it comes to parenting, if I've experienced some form of pain or suffering because of the pain or suffering that perhaps my father or my parents had suffered, I'm going to make sure I break that cycle so that I don't pass it on, basically.
Listen to Prince Harry's Armchair Expert episode:
"It's a lot of genetic pain and suffering that gets passed on anyway so we as parents should be doing the most we can to try and say 'you know what, that happened to me, I'm going to make sure that doesn't happen to you'."

The comments come after Harry claimed during his tell-all interview with Oprah Winfrey that his father stopped returning his calls after he and Meghan – who was known as Meghan Markle before her wedding – decided to step down as senior royals.

Harry also said there was "a lot of hurt" between himself and the Prince of Wales.

He explained: "When we were in Canada, I had three conversations with my grandmother and two conversations with my father, before he stopped taking my calls.

"He knows what pain feels like. Of course I will always love him but there's a lot of hurt that's happened and I will continue to make it one of my priorities to try and heal that."
Also during the podcast Prince Harry compared his life to 'The Truman Show'.
The 36-year-old royal spoke of his frustration at being "born into" the spotlight without a "choice" and compared his experiences to "being in a zoo" and the 1998 film - in which Jim Carrey played the titular character who was unaware he was born on a TV show and lives his entire life being watched by millions - which he insisted is a "dangerous place to be".
He said: "'I think the biggest issue for me was that being born into it you inherit the risk that comes with it – you inherit every element of it without choice.
"And because of the way that the UK media are, they feel an ownership over you, literally – like a full-on ownership – and then they give the impression to some, well most, of their readers that that is the case.
"But I think it's a really dangerous place to be if you don't have a choice. But then of course people, quite rightly, will turn around and go, 'So what if you didn't have a choice? It was privilege.' "
Although Harry said he feels "more free" now he lives in the US, he recalled the "feeding frenzy" of photographers he and his wife Meghan, the Duchess of Sussex, were subjected to when they first relocated Stateside last year, with drones and helicopters constantly flying over their temporary home in the hope of catching a glimpse of them.
Speaking to Dax Shepard on his 'Armchair Expert' podcast, he said: "The response was, 'Well, what do you expect if you live in LA?'
"It's like okay well first of all, we didn't mean to live in LA, this is like a staging area before we try and find a house, and secondly, how sad that if you live in LA and if you're a well-known figure you just have to accept it?
"'The first lot of security we had, I said, 'What's the safest place?' and they said, 'Inside.' And I said, 'Sorry, so just because I'm a well-known person [I] can't go outside anymore?' "
The prince - who has two-year-old son Archie with pregnant wife Meghan - insisted being bothered by photographers is a breach of his human rights and insisted him taking a walk with his family shouldn't be deemed newsworthy.
He moaned: "Just because I'm a well known person, I can't go outside.
"It's really really sad and their argument is from the paparazzi and everyone else, if you're in a public space it's absolutely fine for us to do.
"So what is our human right, as an individual and a family if you're saying from the moment we step out of our house, that it's open season and free game - what, because of public interest?
"There's no public interest in you taking your kids for a walk down the beach.  Nothing, it's not news. This is my issue with it, news should stay is news.
"What is happening in today's world is that news has been hijacked and used to commercially benefit a small group of people, so this sort of rabid, feeding frenzy, and going back to the kids point, it's absolutely true, these kids don't get a choice, they don't get a say in it and if it becomes any worse, then what you're basically accepting is, anyone with a talent... let's punish people who have got a talent and have literally worked their asses off to get to a point where yes they're making money, their fans are contributing that but they're bringing entertainment value to society."
Meanwhile, Prince Harry "pretended" he didn't know his then-girlfriend Meghan Markle when they went supermarket shopping in the early days of their relationship.
The 36-year-old royal and his now-wife - who was titled the Duchess of Sussex after the couple married two years ago - went to great lengths to keep their romance under wraps and communicated by text message between the aisles when stocking up for a break together for the first time.
Speaking to Dax Shepard on his 'Armchair Expert' podcast, Harry said: "The first time Meghan and I met up for her to come and stay with me, we met up in a supermarket in London, pretending we didn't know each other, texting each other from the other side of the aisles.
"There's people looking at me, giving me all these weird looks, and coming up to me and saying 'hi'.
"I texted her saying, 'Is this the right one', and she said, 'No you want parchment paper,' and 'I'm like where's the parchment paper?!'
"I had baseball cap on, looking down at the floor, trying to stay incognito. It's amazing how much chewing gum you see, it's a mess!"
Harry, Meghan, and their two-year-old son Archie stepped back from royal duties and moves to Los Angeles last year and now the prince - who will become a father for the second time in the coming months - admitted his life in the US feels "more free" than it did when he was in the UK.
He said: "Living here now I can actually lift my head and actually I feel different, my shoulders have dropped, so has hers, you can walk around feeling a little bit more free.
"I can take Archie on the back of my bicycle. I never had the chance to do that."
- Bang! Showbiz