Prince William and Kate Middleton celebrate 10th wedding anniversary with stunning new photos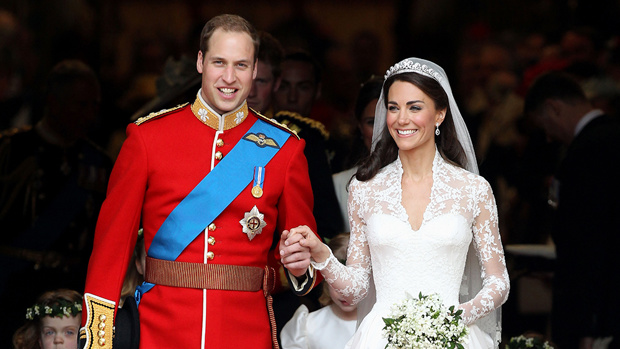 They are our favourite royal power couple and now The Duke and Duchess of Cambridge are celebrating their 10th wedding anniversary.
To mark the special occasion the royals shared two stunning new photos on Instagram.
One of the photos - showing both Prince William and Kate wearing shades of blue - was simply captioned: "10 years".
The other wrote: "Taken this week ahead of The Duke and Duchess' 10th wedding anniversary."
Both of the gorgeous photos were taken by photographer Chris Floyd who shared on his own Instagram: "I recently visited Cambridge for the first time in my life."
"That same day, by an astonishing coincidence, was also the day I was asked to photograph The Duke and Duchess of Cambridge for their tenth wedding anniversary," the photographer continued. "It was a thrill to spend some time with them at Kensington Palace, especially as The Duchess is a rather keen photographer. Happy anniversary!"
Since their magical wedding day in 2011, the love birds have shown us what a real royal romance looks like, and have welcomed three adorable children into the world.
And through it all, they have stayed very much loved-up … here are some of the sweetest things they have said about one another throughout the years. They will really make you go "awww".


Photo / Getty
In 2010 when announcing their engagement William said: "Obviously we both have a very fun time together, both have a very good sense of humour about things, we're down to earth, we take the mickey out of each other a lot, and she's got plenty of habits that make me laugh that I tease her about."
While Kate added: "You know, over the years William has looked after me, he's treated me very well – as the loving boyfriend he is, he is very supportive of me through the good times and also through the bad times."
Around the same time in an interview with ITV, Wills also revealed one of the things he loves best about Kate: "She's got a really naughty sense of humour, which kind of helps me because I've got a really dry sense of humour, so it was good fun, we had a really good laugh and then things happened."
Then in 2011, Kate noted: "I'm very, very lucky. He looks after me as much as possible."
William also noted after their wedding how he wished his mother Prince Diana would have been able to meet the love of his life.
"I think she would have loved the day and I think, hopefully, she'd be very proud of us both for the day," he said speaking of ABC's Kate Couric.

"I'm just very sad that she's never going to get the chance to meet Kate."
After the birth of their first child, Prince George, Wills sweetly said, "He's got [Kate's] looks, thankfully."
He then praised his wife in 2015 following their birth of Princess Charlotte: "It is fantastic having a lovely little family and I am so thrilled," he told the BBC. "Catherine has been doing an amazing job as a mother and I'm very proud of her."
"I'm a lot more emotional than I used to be," William said during the documentary When Ant and Dec Met The Prince: 40 Years of the Prince's Trust. "I never used to get too wound up or worried about things. But now the smallest little things, you well up a little more, you get affected by the sort of things that happen around the world or whatever a lot more, I think, as a father."
And during ITV's Our Queen at Ninety documentary, Kate revealed: "All the time William and I are so struck by the Queen's sense of duty and commitment. And I think to do that by yourself would be a very lonely place to be. But I think to have the support of your husband there by your side on those occasions – and behind closed doors as well – I think is really special.
"William and I have got quite a long way to go. But, no, it really, really is fantastic."
How sweet is that?! Congratulations Kate and Wills!