Royal family release previously unseen photos of Prince Philip surrounded by great-grandchildren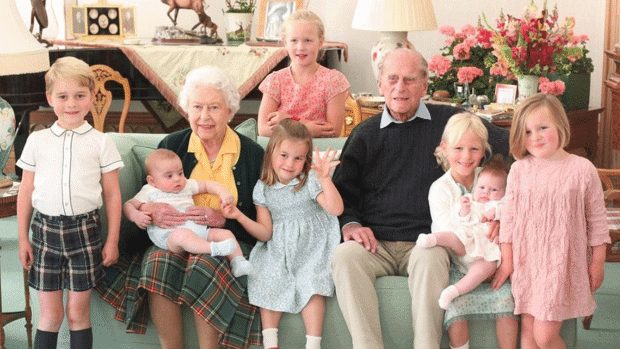 The Royal Family has given people a new glimpse at some previously unseen photos of the late Prince Philip with his great-grandchildren.
Sharing the sweet family photos on their official Instagram accounts, one photo - which has never been seen before by the public - shows The Queen sitting with The Duke of Edinburgh at Balmoral Castle while surrounded by seven of their great-grandchildren, taken in 2018.
The Duchess of Cambridge shared another two images, one showing The Queen and Prince Philip with their grandson Prince William and his wife Kate Middleton along with their children Prince George and Princess Charlotte. The photo was taken in 2015.
The photo was captioned on Instagram: "Today we share, along with Members of The Royal Family, photographs of The Duke of Edinburgh, remembering him as a father, grandfather, and great-grandfather."
The other snap that was taken by Kate and was shared to social media a few days earlier showed Prince George and Prince Philip in a carriage. Alongside the photo Prince William wrote:
"My grandfather's century of life was defined by service – to his country and Commonwealth, to his wife and Queen, and to our family."

"I feel lucky to have not just had his example to guide me, but his enduring presence well into my own adult life – both through good times and the hardest days. I will always be grateful that my wife had so many years to get to know my grandfather and for the kindness, he showed her. I will never take for granted the special memories my children will always have of their great-grandpa coming to collect them in his carriage and seeing for themselves his infectious sense of adventure as well as his mischievous sense of humour!
"My grandfather was an extraordinary man and part of an extraordinary generation. Catherine and I will continue to do what he would have wanted and will support The Queen in the years ahead. I will miss my Grandpa, but I know he would want us to get on with the job."
His Royal Highness Prince Philip passed away age 99, last week on April 9.
Prince William and his brother Prince Harry will be walking behind Prince Philip's coffin at his funeral which is set to take place on April 17.