Runaway dog causes traffic chaos on Auckland's harbour bridge
Publish Date

Sunday, 24 September 2017, 8:48PM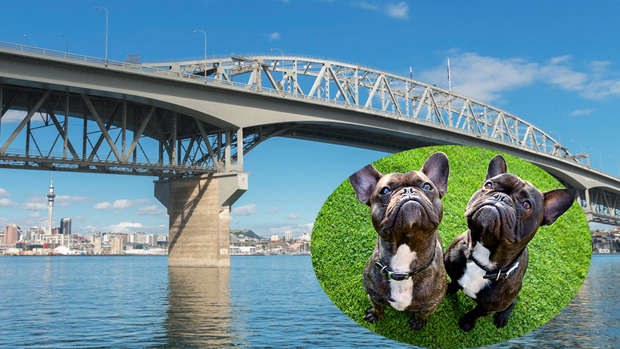 A puppy playdate ended in chaos on the Auckland Harbour Bridge this afternoon as a spooked pet made a dash for freedom on the Northern Motorway.
Frank, 2 - who suffers from separation anxiety - was socialising with a group of fellow French bulldogs at Point Erin in Herne Bay when he escaped from the pack around 3pm, startled by a boy running.
His owner, who asked not to be named, watched in horror as Frank ran onto the on-ramp and charged up the bridge's northbound lane, startling motorists and bringing traffic to a stop.
"I had this sick feeling he was going on to the motorway."
Herald reporter Kirsty Wynn said she was travelling south on the bridge when she saw a small French bulldog running north from Herne Bay. She had to brake behind rubberneckers who had slowed to watch.
"He was right on the peak of the bridge, just running along happily with his tongue lolling out," she said.
Mairangi Bay man Jade Rayner said he saw a man get out of his car to stop traffic in a bid to protect the runaway canine.
"I saw him run out of his car, and I immediately started thinking the worst. I thought, 'Oh man, he's going to jump off the bridge'."
Police said no vehicles were damaged during the incident.
The French bulldog originated in England and was created to be a toy-size version of the bulldog. The breed was quite popular among lace workers in the city of Nottingham and when many lace workers emigrated to France for better opportunities, they took the little bulldogs with them.
This article was first published on nzherald.co.nz and is republished here with permission.