Salted Caramel Scorched Almonds are now in New Zealand and they are our new chocolate obsession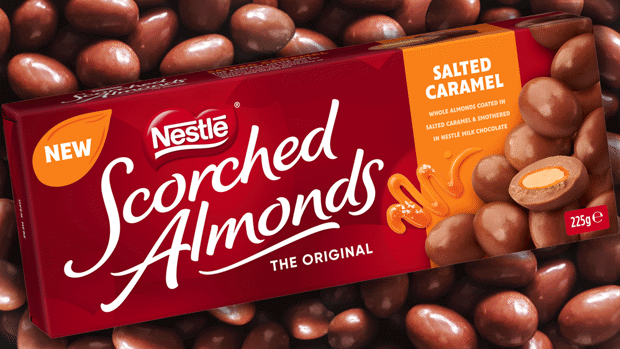 Get ready chocolate-lovers … one of your favourite treats just got a delicious new twist.
We all know Nestlé's Scorched Almonds are one of the best Christmas stocking stuffers and now a brand new flavour has been added to the lineup just in time for the festive season.
Introducing Scorched Almonds Salted Caramel! 
Um, yes please!
A box of these goodies sees whole almonds dipped in mouth-watering salted caramel before being covered in the classic Nestlé milk chocolate - so you get an extra salty-sweet surprise with every bite!

Honestly, who wouldn't want a box of these under the tree?
 "Scorched Almonds has always been a go-to gift for New Zealanders, often you'll find an open box on the table during Christmas lunch, or under the tree," says Nestlé Head of Marketing Confectionary, Joyce Tan. 
"This year we wanted to bring a little bit of excitement and indulgence to everyone's favourite box of Scorched Almonds with the introduction of a new Salted Caramel pack. 
"Of course, we also have our classic Scorched Almonds range which are the perfect solution for the hard to buy for person in their family or the last minute yet thoughtful gift," Tan added.  
The good news is you don't even have to wait for Santa to arrive to try them out with 240g boxes of Scorched Almonds Salted Caramel available now in supermarkets and conveniences stores nationwide.
Be right back ... just popping down to the local to pick up a box as an early self-Christmas present.