See the incredible moment a baby is born while still INSIDE the amniotic sac
Publish Date

Tuesday, 14 November 2017, 7:00AM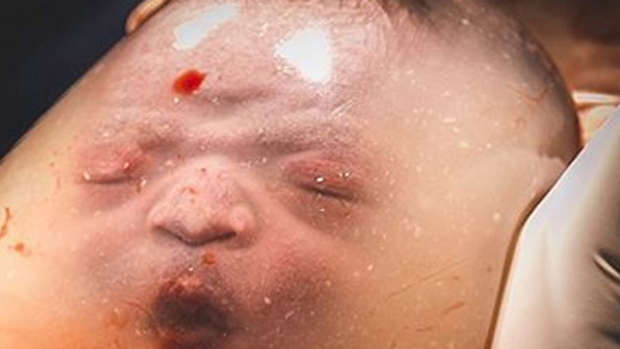 Warning this article contains content that may disturb.
These incredible photos offers a glimpse into a rare kind of birth: a baby being born in the amniotic sac.
Fewer than one in 80,000 babies are born 'en caul', when the bubble of protective membranes which encases a baby in the womb does not break during birth.
Normally, the sac, which protects the baby from movement during gestation, breaks and at the start of labour.
But in cases like this c-section in Brazil, which was photographed and posted on Instagram by professional photographer Jana Brasil, the doctors had to physically break the sac with their hands after pulling the baby out.
The photos show the doctors pulling the entire amniotic sac and placenta from the woman's belly.
The baby's face can be seen pressing against the edge of the fluid-filled sac in the dimly-lit operating theatre. 
Since en caul is so rare, few obstetricians have seen an en caul birth. Usually, in c-section births, the scalpel breaks the sac during the operation. 
Despite the bizarre birth, Noah was born without any other complications and is doing well, according to reports.