'Shock and heartache': Alec Baldwin and his wife Hilaria open up about shooting tragedy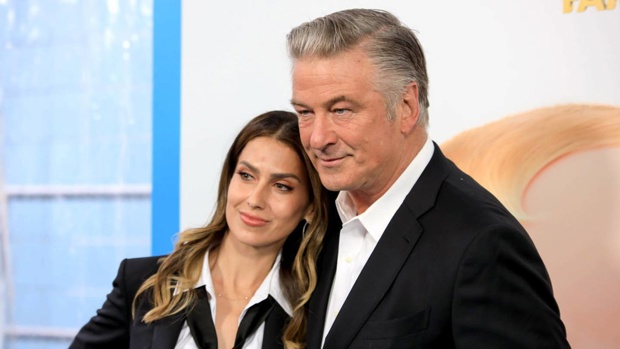 Alec Baldwin is "still trying to get his head around" Halyna Hutchins' death.
The cinematographer died after being shot by the actor with a prop gun on the set of the Western film 'Rust', and Alec is still reeling from the "devastating" incident.
A source told People: "Alec is still trying to get his head around everything that happened.
"This has been devastating. It's been incredibly difficult."

The 63-year-old actor fired the prop gun on the set of the film after an assistant director indicated it was safe to use, according to court documents.
However, Halyna was fatally injured on the set and director Joel Souza needed hospital treatment, before being discharged.
Alec has already addressed the tragedy on Twitter, admitting he was still in a state of "shock".
He wrote on the micro-blogging platform: "1-
"There are no words to convey my shock and sadness regarding the tragic accident that took the life of Halyna Hutchins, a wife, mother and deeply admired colleague of ours. I'm fully cooperating with the police investigation to address how this tragedy occurred and
"2- I am in touch with her husband, offering my support to him and his family. My heart is broken for her husband, their son, and all who knew and loved Halyna. (sic)"
Alec's wife Hilaria has been silent on social media as families grieve, but took to Instagram to express her "shock and heartbreak" over a "tragic accident".
"My heart is with Halyna," Hilaria wrote referring to the victim Halyna Hutchins. "Her husband. Her son. Their family and loved ones. And my Alec."
"It's said, 'there are no words because it's impossible to express shock and heartache of such a tragic accident," she wrote. "Heartbreak. Loss. Support."
Hilaria's post was made days after her husband accidentally shot and killed Hutchins on the set of the Western film Rush. Baldwin was given a real gun with a live bullet instead of blanks.
While real guns are often used in movies, they are loaded with blanks, and it is not known exactly how this tragic error took place.
According to the New York Times, which obtained an affidavit signed by Detective Joel Cano of the Santa Fe County sheriff's office, the assistant director shouted "Cold Gun", to explain that the gun did not have any live rounds in it.
It was reportedly one of three prop guns prepared by the armorer and set up outside on a cart.
The assistant director "did not know live rounds were in the prop-gun", according to the affidavit.

Hutchins was killed after being struck in the chest and director Joel Souza was wounded in the incident.
Baldwin is "cancelling other projects" following the death of Hutchins and will "take some time to re-centre himself" following the incident.
A source told People magazine: "This was pretty devastating. This is how he handles difficult times. Whenever something bad happens, in the short term, he removes himself from [the] public eye."
The insider confirmed that Alec was "hysterical and absolutely inconsolable for hours" following the shooting on the New Mexico set.
Baldwin himself took to social media following the accident last week and said he was "heartbroken" following the death of Hutchins.
Meanwhile, Joel has admitted he feels "gutted" about the tragic accident.
The 48-year-old director - who was shot in the shoulder during the incident but has since been discharged from hospital - has also paid a glowing tribute to the cinematographer, who passed away at the age of 42.
He said in a statement: "She was kind, vibrant, incredibly talented, fought for every inch and always pushed me to be better.
"My thoughts are with her family at this most difficult time."
- Bang! Showbiz, additional reporting by NZ Herald