Shocking photo shows Auckland mum driving with a baby on her lap
Publish Date

Monday, 16 July 2018, 12:04PM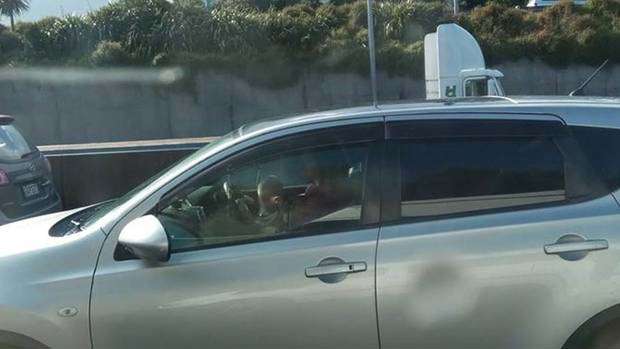 One Auckland mother has come under major fire after she was caught driving home with her young baby on her lap.
In a picture posted to the Shocking Auckland Drivers Facebook page, the woman can be seen with the baby sitting between her chest and the steering wheel at 5.35pm on Tuesday.
The incident, which occurred during peak-hour traffic on State Highway 1 northbound between Penrose and Greenlane, has left social media users shocked.
Speaking to the NZ Herald, the page's admin Danny de Hek said: "I thought it was a disrespect for everything really. It's arrogant thinking that's okay. What planet is she on?"
"It's really shocking. And people have a go at foreign drivers when they come to New Zealand. How about we look at ourselves!"
Other social media users slammed the mother, with some calling her actions a "death sentence" for her baby.
"Oh my goodness me! If that airbag went off that kid is dead," wrote one user.
"I'd rather my kid cry for a car ride and remain safe than be quiet and dead," said another
READ MORE:
• It's official! Second born children are more likely to get in trouble ...
• Apparently this is the hottest new name for babies - but it is also the "strangest name ever"!
A third commented: "I didn't realise this level of stupidity would be possible to pass through a parents mind."
"Wow. Id call *555 for that one. Reckless endangerment of that kids life!" another added.
According to NZ Transport Agency, it is the driver's responsibility to make sure any child under the age of seven years is properly restrained by an approved child restraint that is appropriate for the age and size of the child.
"They must not travel in the vehicle if you can't put them in an approved child restraint. The vehicle's safety belt on its own is not an approved child restraint," the NZTA website says.