Singer Halsey unveils exciting baby news in 'surprise' pregnancy photos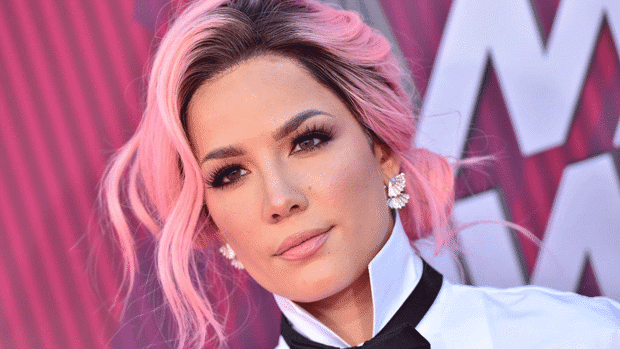 Halsey has surprised her fans with some exciting baby news … she's pregnant!
The 26-year-old star took to Instagram to announce that she is set to welcome her first child with her screenwriter boyfriend Alev Aydin.
Alongside a series of sweet snaps of her cradling her baby bump, Halsey simply wrote: "surprise!"
In the comments section of the post, Alev wrote: "Heart so full, I love you, sweetness." to which the Without Me singer replied "I love you!!!!!! And I love this mini human already."
The pregnancy photoshoot snaps were taken by photographer Sam Dameshek who congratulated Halsey writing: "Halsey you're gonna be a great mother - thank you for letting me document this moment."
Fans have also noticed that the singer hinted at experiencing pregnancy cravings during her interview with Kelly Clarkson on The Kelly Clarkson show before making her announcement.
"I can't stop eating, I don't know what's gotten into me," the 26-year-old shared. "It's kind of being home in the quarantine. I usually eat really healthy when I'm on tour. You know how this is, I was on tour for six years and all I was eating was grilled chicken breast and rice and spinach, and sometimes green room gummy bears. Since I've been home, I've had time to experiment with different snacks and I take it pretty seriously."
Previously Halsey opened up about being diagnosed with endometriosis and suffering a miscarriage while on tour in 2015.
In an episode of The Doctors, Halsey shared that she found out she was pregnant not long after receiving her diagnosis but that "before I could even really figure out what that meant to me and what that meant for my future, for my career, for my life, for my relationship ... The next thing I know I was on stage miscarrying in the middle of my concert."
"The sensation of looking a couple hundred teenagers in the face while you're bleeding through your clothes and still having to do the show," Halsey recalled.

"Realising in that moment I never want to make that choice ever again of doing what I love or not being able to because of this disease. So I put my foot down and I got really aggressive about seeking treatment."
The star then went on to have surgery to treat her endometriosis and has since felt "a lot better".