Star of iconic Cadbury chocolate ad exposes the big lie behind it: 'I feel so deceived'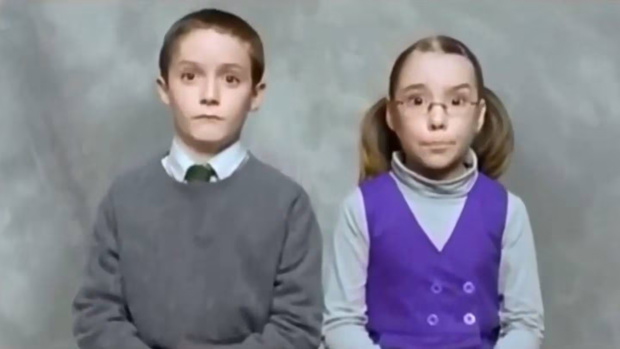 Chocolate giant Cadbury has made some pretty memorable ads over the years - and the iconic 2009 "Eyebrows" ad is no exception. 
Launched by the brand in 2009 to market its original Dairy Milk block, the ad featured two kids showing off their "ability" to make their brows "dance". 
Bradley Ford and Georgia Wake starred in the memorable advert, posing in front of a grey backdrop in a studio as they wiggle their brows up and down at lightning speed. 
It quickly became one of the most popular ads of the noughties, but now Wake herself has revealed all is not as it seems - and has left many chocolate lovers feeling "deceived". 
Wake, who was just 9 years old when it was filmed, has now claimed that she wasn't moving her eyebrows at all. Sharing a clip from the commercial on TikTok, Wake, now in her 20s, asked, "Who remembers this iconic advert?" 
She added jokingly, "When you lie to the nation about your eyebrow talent ... how times change. Nine-year-old me was thriving." 
Posted just two days ago, the clip has now been viewed hundreds of thousands of times and has left many stunned. Viewers were shocked to find Wake hadn't been moving her brows at all, revealing that they now felt their childhood was a "lie". 
One wrote on TikTok, "This advert had me in a chokehold. I finally learnt how to raise an eyebrow each. It only took me six years to master it to find out I was living a lie." 
Another wrote, "I was 100 per cent convinced I could have robbed you out of a job. I spent ages getting Emilia Clarke levels of expression and you're telling me it was FAKE?!" 
Another simply commented that they felt "so deceived", with another writing, "My childhood was a lie". 
"This is why I have trust issues," another commented. 
But others still hailed her as a "national treasure", declaring that her performance was "iconic". 
This article was first published by the NZ Herald and is republished here with permission. 
Take your Radio, Podcasts and Music with you