Ten important reasons why you should always take a lunch break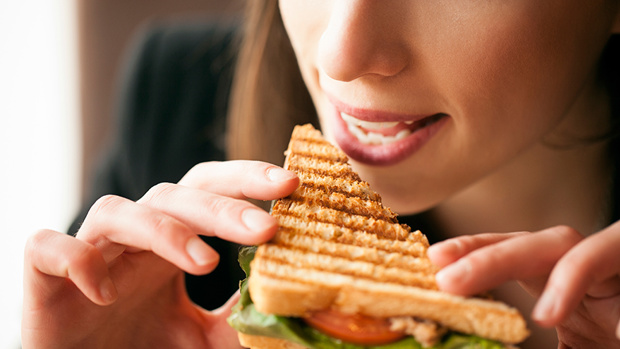 Torn between taking a bit of a break and pushing through another desk lunch to finish all that work before you head off?
Here's why, even though chaining yourself to the desk may feel like the more productive option, it's not doing you any favours whatsoever.
1. YOUR CONCENTRATION LEVELS SOAR
Eating at your desk could put your physical and mental health at risk, reports the Daily Mail.
Prolonged exposure to the same sensory stimulus, such as a computer screen, causes the brain to become used to what you're seeing – and therefore more likely to miss important details. Just two short breaks during a 50-minute task dramatically improved the performance of participants in a University of Illinois study.
2. IT IMPROVES YOUR EYESIGHT…
Staring at a screen leaves you prone to the condition dry eye, because a reduction in blinking leads to a lack of lubrication. Researchers in Japan found that workers who spend more than seven hours a day in front of a screen had 50 per cent less eye lubrication than those working five-hour days. In the long term, dry eye can lead to blurred vision and conjunctivitis.
3. ... AND SLEEP QUALITY
A midday break limits the amount of blue light your brain is exposed to. Blue light cuts the amount of melatonin we have in our system, affecting sleep. A trial of 300 people with emotionally demanding jobs found that taking a regular 15-minute lunch break improved sleep quality.
4. IT CUTS YOUR RISK OF ARTHRITIS
Moving your body during a 30-minute lunch break can vastly reduce the risk of conditions such as arthritis and chronic back and neck pain, says the Chartered Society of Physiotherapy.
5. BEAT THE BLOAT…
Excess gas, which causes painful bloating, is easily avoidable if you go for a stroll either before or after you eat. Exercise encourages the cultivation of good gut bacteria, which help to break down food, and gets the stomach muscles moving, pushing food down the digestive tract.
6. … AND CRAMPS
Stomach cramps after eating can be caused by nerve spasms in the colon which are triggered by stress. However, taking the time to savour food – and chew it properly – can significantly improve symptoms, according to a Swedish study.
7. IT WARDS OFF HEART DISEASE
A walk at lunchtime can decrease the risk of developing 20 chronic diseases including diabetes, heart disease and some types of cancer, says the British Heart Foundation. And researchers at Warwick University found postmen have a 30 per cent lower risk of heart disease than office workers.
8. KEEPS YOU SLIM
Scientists at the University of Colorado found that when office workers ate at their desk, they were hungrier and consumed more than workers whose days are interspersed with five-minute breaks. Desk-bound employees carry an extra 3cm around their waist than those in more active professions.
9. IMPROVES MOOD
Designated lunch breaks reduce workers' risk of depression by an average of 30 per cent, British Heart Foundation research shows. And exposure to sunlight slashes the risk of depression and anxiety disorders, according to a British Journal Of Psychiatry report.
10. IT'LL GIVE YOU A VITAMIN BOOST
Vitamin D – made when our skin comes into contact with sunlight – is vital for healthy bones. Britons are already at an increased risk of Vitamin D deficiency, and spending under 15 minutes outdoors every day makes you more likely to develop fragile bones, according to Public Health England.
This article was first published on NZ Herald and is republished here with permission.