The hero firefighters that saved this dogs life in housefire
Publish Date

Saturday, 11 November 2017, 11:12AM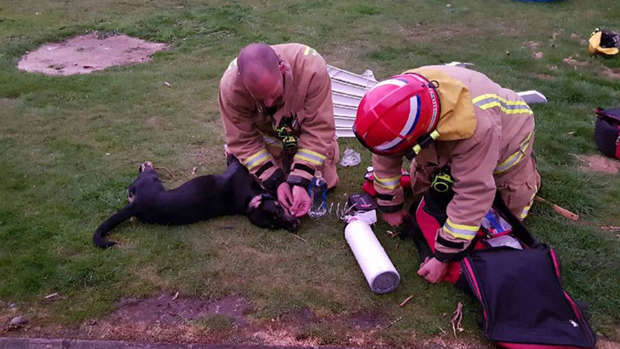 She was carried, alongside her two-legged best friend, unconscious from a smoke-filled Tokoroa house.
As they arrived about 7.45pm yesterday, volunteer firefighters from the South Waikato town were told by neighbours that no one had emerged from the John St home, where a kitchen and lounge were on fire and the whole house was clogged with smoke.
Breathing apparatus over their faces, four firefighters went inside and discovered a middle-aged man slumped unconscious part-way across a bed and the floor in one of the home's three bedrooms.
By his side was a small black dog, also unconscious.
But both were still breathing. There was still hope.
Outside, St John Ambulance officers helped the man, who was flown by rescue helicopter to Waikato Hospital, where he is in a critical condition in the intensive care unit this morning.
But the news is better for his little friend, a mixed breed dog named Molly.
South Waikato Veterinary Services' vet Rebecca Fone said Molly had arrived at the clinic with low oxygen levels but after treatment was back on her feet, looking bright and tucking into breakfast.
"She got dog biscuits and dog roll ... yes, she got a little bit extra."
The "lovely, lovely dog" had a cough, as expected, and was receiving antibiotics and eye-drops, but was expected to make a full recovery.
Firefighters at the scene had saved Molly's life, Fone said.
Last night, as ambulance officers were helping the man, two firefighters turned their attention to his faithful companion.
Tokoroa Volunteer Fire Brigade chief fire officer Dave Morris captured the moment on his phone and shared the touching snap with the Herald.
In it, senior firefighter Chris Barrett uses a tube to administer oxygen to Molly, who was lying prone on the grass with one ear folded back, as station officer Paul Carter kneels at his side.
"It was struggling to breathe. You've got to treat a dog like a human ... whether it's an animal or a person, everybody's treated the same.
"We've all got pets. You've got to do your best for the animals."
The dog was semi-conscious by the time the duty vet arrived, Morris said.
one said they were focusing on doing their best for Molly, as her owner received his own treatment in hospital.
After less than an hour with the lucky pooch, she had already fallen in love, she said.
"She's a lovely, lovely dog. It would be hard not to fall in love with her ... we'll just keep her here and everybody else can fall in love with her."
NZ Herald.