The internet helps find this Women's March protester's mystery man
Publish Date

Friday, 27 January 2017, 12:27PM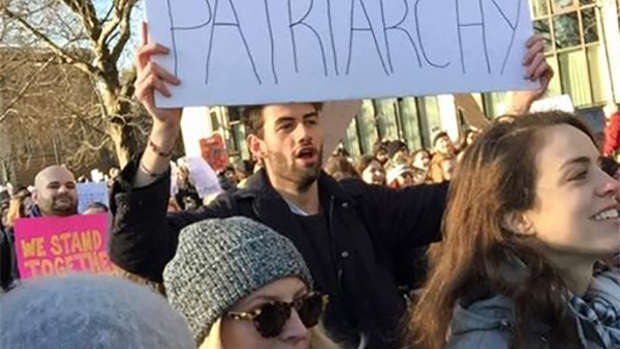 A woman is planning a date with a handsome stranger who she spotted at the Women's March in London after managing to track him down with a Facebook appeal.
Sophie Stummvoll snapped the "lovely and tall gentleman" in the background of a selfie but was "too shy" to approach him in the crowd at Trafalgar Square on Saturday.
Filled with regret, she later shared the photo on Facebook and it quickly went viral with supporters using the hashtags #equalitybae and #findequalitybae to track him down.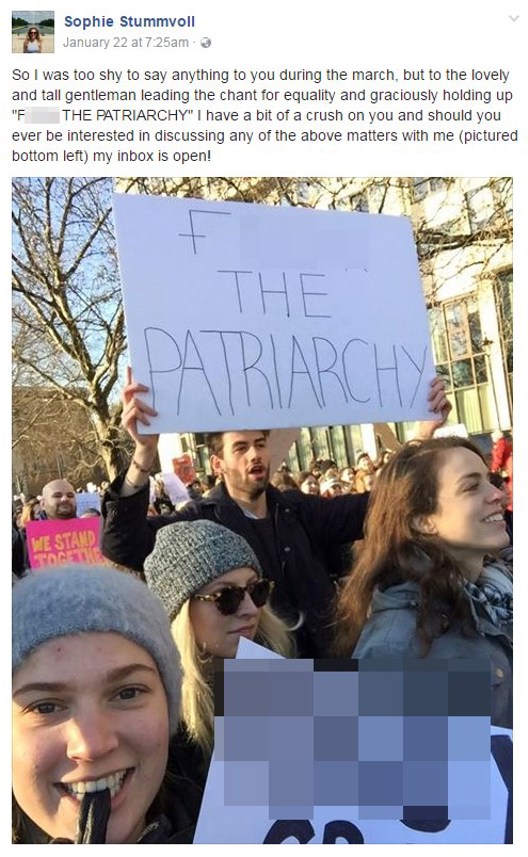 Hours later the mystery man was identified as Morgan Edward Davies - and a date is now "on the cards" for the couple. 
Miss Stummvoll told Mashable: "It was such a great feeling to have random people on the internet trying to help me find my bae."
Mr Davies was carrying a sign reading "f*** the patriarchy" when he was unknowingly photographed by Miss Stummvoll. 
Miss Stummvoll said: "I was really kicking myself for not talking to him at the march because the guy looked like just my type, and really, where better to find a true bae than at a feminist rally?"
She posted the photo on the 'Women's March on London' Facebook group and it prompted a flurry of responses from romantics desperate to reunite the pair.
Hours later one of Mr Davies' friends saw the Facebook post and tagged him. 
Seizing her opportunity, Miss Stummvoll sent a private message to Mr Davies - who has since updated his Instagram profile with his new, unofficial title - asking him out on a date.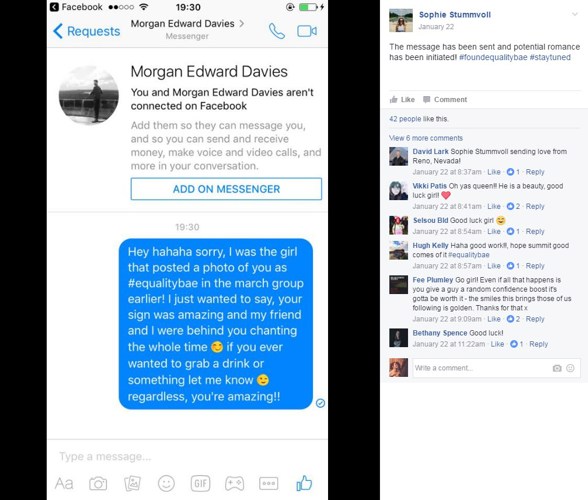 Mr Davies told Mashable he thought it was "really lovely that someone had noticed him" and drinks are "on the cards" for the pair. 
He added: "It was a brave thing she did and took a lot of balls (pun intended)."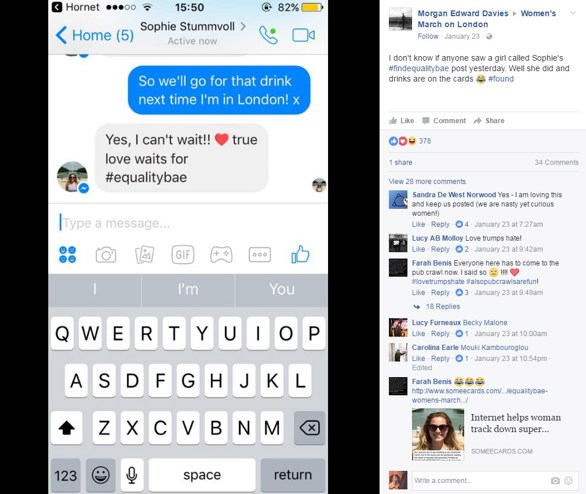 After Mr Davies accepted her offer of a drink the next time he's in London, Sophie couldn't hide her delight.
Miss Stummvoll updated her supporters with the good news by sharing a grab of their online exchange.
She wrote: "For everyone that was rooting for me to find my #equalitybae on the Women's March Group last night, thank you!" 
And Mr Davies appears to be living up to her expectations. 
She added: "He reached out to me in the lovely manner you would expect him to!"