The reason this pregnant woman posed with a Nemo toy will bring tears to your eyes!
Publish Date

Wednesday, 13 September 2017, 1:24PM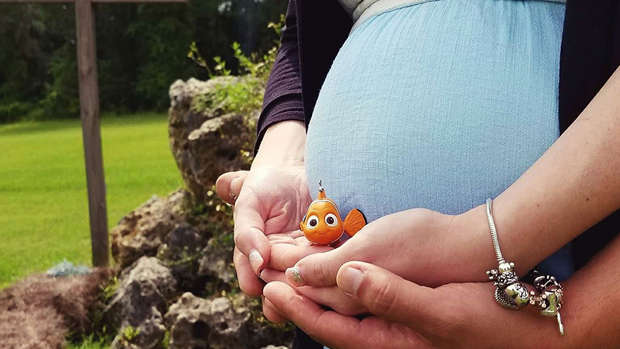 At first glance you probably think this is just another Disney-themed pregnancy shoot.
But it's not.
As fans of the film will know, Nemo has a smaller right fin, which was damaged while he was still in his egg - but the brave Clownfish doesn't let his 'lucky fin' stop him from living a life full of adventure.
Which is exactly the inspirational message Tayler Borre and Ryan Shehan hope to share with their unborn daughter, who suffers from a rare condition called amniotic band syndrome.
"They will see this and think, 'Oh, a cute pregnancy picture with their favorite Disney character,'" Tayler wrote in an emotional Facebook post. "But to my family, this means so much more than just a picture."
"We found out our sweet girl has no left hand, it was so hard to hear that just thinking about how mean people can be towards people who are 'different' and of course not wanting anything to be wrong with your child," she continued.
"But I was also at peace with the news because everything else she measured perfect and she's nice and strong! She is our nemo. She has a fin that's a little smaller than the other, but she will conquer anything her little heart desires to do!
"This is not a disability or a bad thing, she will be a little rockstar no matter what! She will do it all!"
Amniotic band syndrome (ABS) occurs when the foetus becomes entangled in fibrous string-like amniotic bands in the womb, restricting blood flow and affecting the baby's development.
The couple are now trying to raise awareness about ABS.