The unbelievable reason behind this woman's two-toned skin condition
Publish Date

Tuesday, 6 June 2017, 1:56PM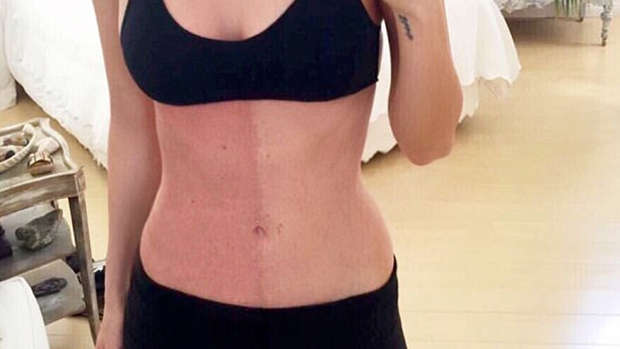 Taylor Muhl always suspected she had a twin but she never thought the birthmark on her stomach was actually her sister fused to her body.
The Californian singer, 33, absorbed her fraternal twin while in the womb, the Daily Mail  reports. 
But it wasn't until 2009 that she was diagnosed with a rare condition called Chimerism.
Everything on Muhl's left side of her body is slightly larger and she has two immune systems and two blood streams.
Most noticeably, Muhl's torso is divided straight down the middle with her skin colour on one side and her twin's pigmentation on the other. The large marking makes Muhl's case even rarer because most Chimeras only display the symptoms internally or have very tiny marks.
Muhl wasn't aware her 'birthmark' was a tell-tale sign of the rare condition until she watched a TV documentary on Chimerism.


Until now, Muhl has kept her condition a secret but she wants to embrace what makes her unique and encourage others to do the same.
Muhl, a model and singer, said she was obsessed with twins when she was growing up. 
Speaking to the Daily Mail Online, Muhl said: "When I was around six years old, I would always ask my mum if I had a twin. She was so confused by it. 
"I even wanted to play twins with my girlfriends all the time, having us dress the same way."
At the time, Muhl had no idea that she shared DNA with her unborn twin, but she always knew something was different about her.
Besides having her torso split down the middle with a different colour, Muhl has always been plagued with sickness. 
She constantly has colds, splitting migraines and terrible menstruation cycles.
One day Muhl happened to be flipping through the channels when she landed on a documentary on Chimerism in 2009.
"I fell out of my chair," Muhl said. "There was a baby who had the same line as I did."
Chimerism is an extremely rare medical condition and is when an individual is composed of two or more genetically distinct cell lines originating from different zygotes.
Muhl wasn't officially diagnosed with the condition until visiting a throat doctor a week later, who had happened to work on Ripley's Believe It or Not! medical cases.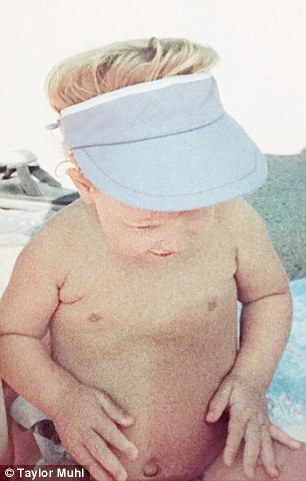 The entertainer told him what she had seen on the show and he revealed he had heard of the rare condition but he never actually met anyone with Chimerism. 
Muhl learned she is allergic to certain metals on one side of her body but not on the other because of the different immune systems. 
She gets hit twice as hard during flu season because both of her immune systems are weakened while they are fighting the other's cells.
Since her diagnosis, Muhl has been trying to come to terms with her condition and understand it. 
She said: "I don't want to be a human Guinea pig or viewed as a circus freak. 
"I had always kept my stomach a secret, covering it up or having photographers Photoshop it out.
"But now I want to embrace the way I look. I want to inspire people to feel beautiful and confident with their difference."
Because Chimerism is so rare, many people with the condition only learn they have it when they have a DNA blood test. 
Knowing the true number of Chimeras in the world is complicated as a result of the secondary genes being only be present in certain organs and not in others.
It is estimated there are only 100 known cases of the condition.  
This article was first published on Daily Mail and is republished here with permission.