There's a new Fifty Shades of Grey book on it's way and this time it's from Christian's point of view
Publish Date

Thursday, 12 October 2017, 8:30AM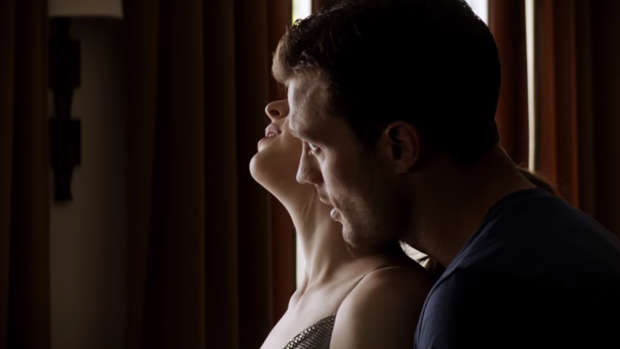 She's the woman behind the bestselling sexually graphic trilogy Fifty Shades.
And now, it has been announced that E.L. James' is set to release the next instalment of the much-loved BDSM novel series, Darker: Fifty Shades Darker as Told by Christian, on November 28.
Previously the British author - who has sold millions of copies of her racy literary offerings - published Grey in 2015, which was also told from Christian's point of view, the Daily Mail reports.
Taking to Instagram to confirm the news, she wrote: "Hello all. I'm delighted to let you know that Darker: Fifty Shades Darker as told by Christian will be published in the US and UK on 28th November 2017. 
"Other territories to follow. I do hope you enjoy it. Much love. #FiftyShades #Darker #ChristianGrey."
Adding in a statement, she shared: "The inside of Christian's head is a pretty daunting place to be. Writing Darker offered me new insights into his character and motivations, and I hope readers find those insights as compelling as I did."
The announcement appeared to hit the right note with her 630,000 followers as they commented in their droves about their excitement for the new offering. 
One wrote: "It's about time! Thank you so much, I'll enjoy it !! 100000000%". 
"Yes, yes, YES .. I can NOT wait .. so freaking excited!!" a fan posted. "Can't wait to read it, thank you." 
"Gosh I'd so want to read this ❤️ because I was pretty sad when I finished reading the whole series," another shared. 
The writer's social media announcement comes after Universal Pictures released a teaser for Fifty Shades Freed in September, giving fans a peek at the upcoming film's raunchier than ever scenes with Dakota Johnson and Jamie Dornan reprising their roles of Christian Grey and Anastasia Steele.
In a sequence of images, Ana and Christian are seen getting hot under the collar with one another, as a naked Ana seen looking into Christian's eyes with a riding crop under her chin. 
And in another jaw-dropping scene, a lingerie-clad Ana is seen showing off her pert assets and taut midriff in the infamous "Red Room" while Christian looks on with awe and prepares to kiss her waist. 
The third and final film in the Fifty Shades trilogy sees the unconventional couple take the next step in their sizzling relationship, as they are seen getting decked out in their wedding threads, with Christian slipping a ring on Ana's finger. 
They're then seen pulling up to a luxurious aircraft, with Ana asking Christian, "Do you own this?" to which he replies, "We own this."
The lovers are then seen in a montage of flashes, showing them relaxing on a tropical waterfront, brandishing handguns and - of course - getting intimate with one another.
Ana's boss Jack Hyde, played by Eric Johnson, also makes a chilling cameo as he holds her from behind at knife-point.
The hotly-anticipated flick is set to be released next year.
The studio also released promotional art for the film, showing Ana standing at the forefront of a gorgeous ivory balcony in a wedding gown, with the tagline, "Mrs. Grey will see you now," a riff on an ad for the original film that read, "Mr. Grey will see you now." 
The third instalment follows on the heels of 2015's Fifty Shades of Grey and this year's Fifty Shades Darker, which have taken in a massive $949.8 million in box office receipts.
Some of the scenes in the movie were filmed in Nice, France during the summer of 2016, when a terrorist attack took place in the city July 14 amid Bastille Day celebrations, leaving 86 people dead.
Producer Dana Brunetti took to Facebook that day to let people know that the cast and crew were unharmed in the wake of the deadly incident. He wrote, "Production has confirmed that everyone working on location in the south of France is okay. 
"Everyone has been accounted for and is safe and sound," he said, adding, "Thanks for everyone's messages and concerns. Another sad day for France and the world."
Fifty Shades Freed, directed by James Foley, hits theatres Valentine's Day 2018.
This article was first published on Daily Mail and is republished here with permission.