These are the finalists for New Zealand's Quote of the Year - vote for your favourite!
Publish Date

Thursday, 7 December 2017, 10:30AM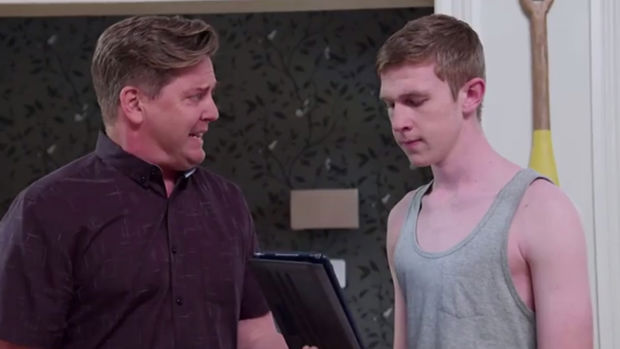 From political insults, to "death by a falling fatty" and a Shortland Street cliffhanger, 2017 has been a good year for the memorable Kiwi quip.
Massey University has released their list of the year's best quotes, and it's up to you to decide the winner.
The annual event is back for 2017, and features a mix of pop culture highlights and witty comebacks.
Politicians feature heavily in Massey University's Quote of the Year finalists.
Jacinda Ardern made the list for her comments on climate change, while partner Clarke Gayford also featured, with his suggestion his new title might be "first lady-man"
You can't have a list like this without Winston Peters. This time, it's his Ratana crack at Gareth Morgan which made the cut.
The most notable of them all though was what has become Chris Warner's final line, his already infamous bellow as he asks his son: 'Please tell me that is not your penis!'
The full list of quotes, in particular order, are:
"It's deeply disappointing, but it's not gay." – Actor Jatinder Singh after 'Nigel' calls a dropped pie "gay" in Rainbow Youth's advertisement.
"Excuse me for laughing, but it's been a long time since I've been ravaged by a toothless sheep." – Winston Peters on Gareth Morgan.
"This is my generation's nuclear-free moment." – Jacinda Ardern on climate change.
"I'm embracing my new feather duster status." – Paula Bennett, ending her tenure as Deputy Prime Minister.
"First ladyman? Who knows… Aiming for Michelle Obama, probably gonna be a little bit closer to Prince Philip." – Clarke Gayford on his role as Jacinda Ardern's partner.
"I am a different shade of brown." – Student Jai Selkirk of the Dilworth School team winning "Word – The Front Line Poetry Slam" competition.
"Please tell me that's not your penis." – Shortland Street's Dr Chris Warner (Michael Galvin) confronting his son about a photo, in a cliff-hanger ending.
"If humour is common sense dancing, John Clarke was Nureyev." – Musician Don McGlashan on the death of comedian John Clarke.
"For overseas observers, in NZ elections, we all vote then take the ballots—chuck them out—and ask a man called Winston Peters who won." – Writer Ali Ikram tweeting about the 2017 election.
"I've not seen the data about the risk factor of death by falling fatty; I'd imagine it's similar to the risk factor of death by Sharknado." – Fat activist and scholar Dr Cat Pause when asked if fat people are a hazard because they could fall on you.
The finalist list is open for public voting here.
Voting closes at midday on Wednesday, December 13 and the winner will be announced on Thursday December 15.
Last year, the prize was won by former Green MP Denise Roche, who, in retaliation to Brian Tamaki's suggestions that gay sex caused earthquakes, said: "Sex just can't be that good,".
This article was first published on Newstalk ZB and is republished here with permission.