These are the songs that have been BANNED from weddings and some of them may surprise you!
Publish Date

Tuesday, 31 July 2018, 3:00PM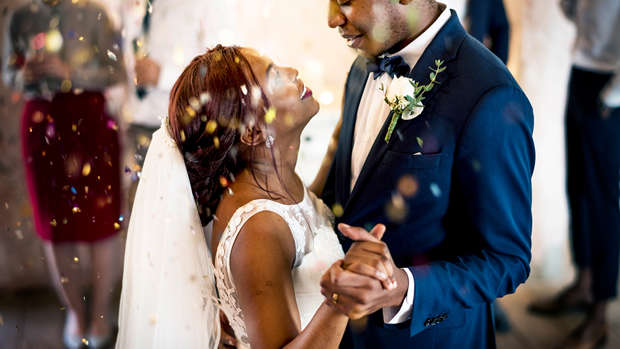 Weddings. They are filled with love, laughter, delicious food and of course dancing!
But it seems there are some classic wedding jams that now getting a big thumbs down from modern brides and grooms.
Songs that used to be dance-floor fillers are becoming BANNED from the big day and while a lot of them are sort of understanding (we've all had enough of the Macarena, right?) other, well, they're rather surprising!
A list of the top tracks blocked from wedding receptions has been unveiled by FiveThirtyEight and below are 30 of the worst offenders. Are some of your faves on here?
1. Chicken Dance
2. Cha-Cha Slide by DJ Casper
3. Macarena by Los Del Rio
4. Cupid Shuffle by Cupid
5. YMCA by Village People
6. Electric Boogie by Marcia Griffiths
7. Hokey Pokey
8. Wobble - V.I.C.
9. Happy - Pharrell Williams
10. Shout - Isley Brothers
11. Love Shack - The B-5's
12. We Are Family - Sister Sledge
13. Blurred Lines - Robin Thicke
14. Celebration - Kool & The Gang
15. Cotton Eye Joe - Rednex
16. Dancing Queen - ABBA
17. Don't Stop Believin' - Journey
18. Single Ladies - Beyonce
19. Sweet Caroline - Neil Diamond
20. Turn Down for What - DJ Snake, Lil John

21. Watch Me (Whip/Nae Nae) - Silento

22. Hot in Herre - Nelly
23. Mony Money - Billy Idol
24. All About That Bass - Megan Trainor
25. Baby Got Back - Sir Mix-A-Lot
26. Booti Call - Blackstreet
27. Gangnam Style - Psy
28. Save a Horse (Ride a Cowboy) - Big & Rich
29. Stayin' Alive - Bee Gees
30. Sweet Home Alabama - Lynyrd Skynyrd