These 'safe sex' campaign condoms are causing major outrage!
Publish Date

Thursday, 14 September 2017, 4:38PM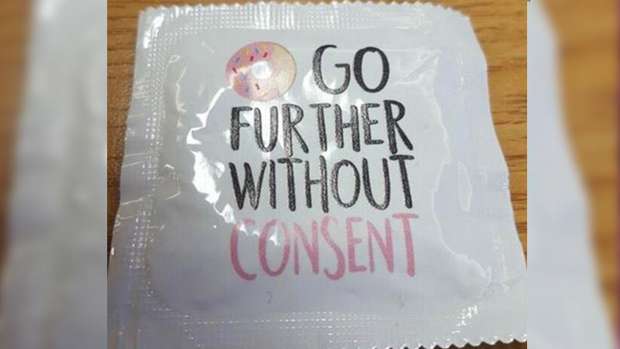 Social media is not happy about these 'safe sex' condoms.
Which is understandable considering at first glance it looks like they're promoting rape.
The condoms - which have the words "go further without consent" with a cartoon doughnut printed on them - were handed out to university students in America in an attempt to stop sexual assault on campus.
One student was so outraged by the packaging they uploaded a photo to Reddit, which quickly went viral with furious users sharing the post.
"Safe sex campaign on my campus handed these out," the picture was captioned.
"WOW, that is pretty damn crappy," one user noted.
Another added: "It's creepy as f**k. I'm 99% sure that this was designed by a sex offender."
A third said: "This is terrible...it might be the worst design in the history of this sub."
But it turns out the slogan isn't as controversial as it first appears.
It took one helpful Redditor to point out that the doughnut is actually part of the sentence.
"No, no, no. It's 'Do-nut! Go further without consent'," they revealed.
However, many were still not impressed.
"There should be absolutely NO room for ambiguity with a message like that. This is almost Dangerous Design," turnonthesunflower commented.