This controversial ad for sanitary pads want to change the way you think about periods
Publish Date

Friday, 20 October 2017, 11:00AM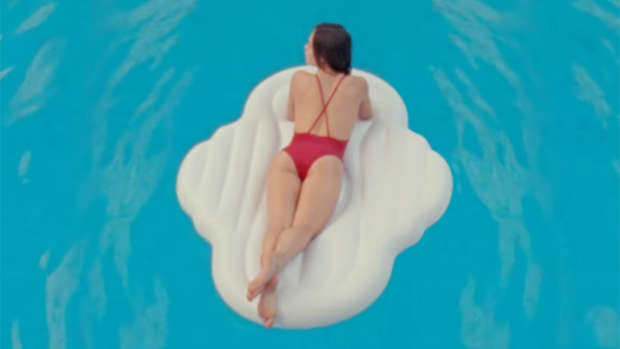 A new advert from UK sanitary products brand Bodyform features blood on a sanitary towel for the first time.
The commercial begins with a vial of blood being poured onto the sanitary towel to show its "ultra-absorbing core", reports the Daily Mail.
The campaign aims to break the taboo over periods, with the advert accompanied by the tag line: "Periods are normal. Showing them should be too."

It comes after Bodyform became the first sanitary towel brand to feature red blood in one of their adverts last year, rather than the blue liquid traditionally used.
Gone is the "traditional" use of blue liquid to depict period blood. Photo / Bodyform
Their Red.Fit campaign showed blood on women's bodies as they played sports such as boxing, but did not depict blood in relation to periods.
The brand also was the first to ever feature a real sanitary towel in a separate advert last year.
Bodyform's new advert features blood streaming down a woman's arm while she is in the shower, as well as various depictions of sanitary towels - including a lilo that is shaped like one.
During the commercial, a man is also seen purchasing a packet of sanitary towels in the supermarket.
The launch of the new campaign comes after research found one in five women believe their confidence has been damaged because periods aren't discussed openly.
Another 42 per cent said they believe girls' confidence will continue to be at risk in the future if this silence continues.
Traci Baxter, marketing manager at Bodyform, said: "We know that the 'period taboo' is damaging.
"It means people are more likely to struggle with the effects of period poverty, whilst others struggle with their mental health and wellbeing.
"As a leader in feminine hygiene, we want to change this by challenging the taboo and ultimately removing the stigma, making it even easier for anyone to talk about periods, now and in the future.
"This is exactly the reason why we launched #bloodnormal.
"We believe that like any other taboo, the more people see it, the more normal the subject becomes."
She added: "We remain committed to showing periods in everyday life, truthfully and honestly - because we feel it's the right thing to do to. Together, we can help make blood normal."
This article was first published on Daily Mail and is republished here with permission.