This delicious Caramilk mousse recipe has gone viral for all the right reasons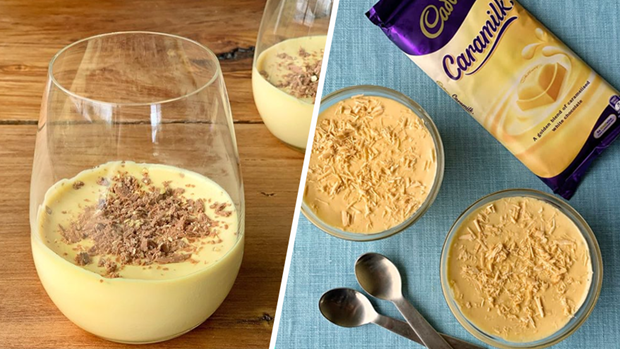 We've stumbled across a Caramilk mousse recipe that really could be life-changing ...
The recipe created by Kiwi Food Blogger Vanya who goes by VJ Cooks social media has quickly gone viral for being absolutely delicious.
The best part is, it literally has 4 ingredients. Caramilk choccy, eggs, cream and brown sugar!
Now without further ado, it's time to have your life changed. 
Finely grate two tablespoons of Caramilk, and set this aside. 
Melt the rest of the Caramilk and whisk until smooth, set aside to cool down. 
In a separate bowl, whip the cream until soft peaks form.
Add eggs, and brown sugar into a separate mixing bowl, whisk on high speed until sugar dissolves and the mixture looks light and fluffy.
Pour the melted chocolate into the egg and sugar mixture. Then add the whipped cream and fold everything together until it is all incorporated.  
We're pretty much done! Pour mousse into whatever dish you like, whether these are ramekins, wine glasses or even just a giant dish for one!
Sprinkle with grated Caramilk, refrigerate for a few hours, and it's go time!