This deliciously easy Raspberry and Pink Champagne Jelly recipe will be your new favourite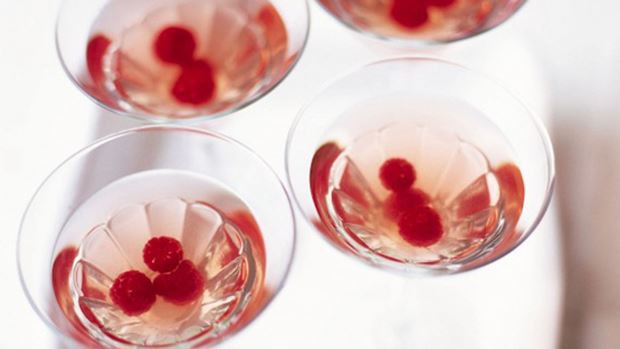 If you want to put a deliciously boozy twist on the classic jelly dessert, look no further.
This scrumptious treat is not only beautiful and tasty - but also lighter on calories.
Just make sure you don't use your best pink Champers - any pink sparkling wine will be just as good!
Makes: 4 large
Prep time: 10 mins
Cooking time: 5 mins
Ingredients:

- 4 sheets of gelatine
- 350ml pink Champagne
- 2tsp caster sugar
- 12 raspberries
Method:
1. Place the gelatine sheets in a bowl of cold water for 5 minutes or until soft. Squeeze the sheets and discard the water.
2. Pour 100ml of pink Champagne into a bowl that fits snugly over a pan of boiling water, add the gelatine and sugar and heat gently until the gelatine has dissolved. Remove from the heat, add the remaining Champagne and pour into a jug.
3. Place 3 raspberries in the bottom of each martini glass. Pour over a little jelly (just enough to cover the raspberries) and refrigerate until set.
4. Very carefully and slowly, pour over the rest of the jelly into the glasses until each glass is almost full. Refrigerate until set.
5. These jellies will keep for up to 2 days in the fridge.