This is why swimming in the ocean is actually really good for you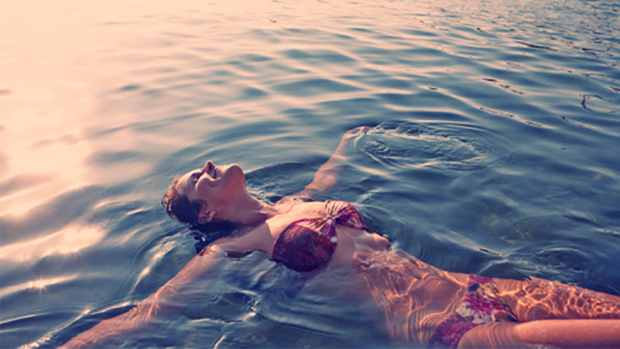 If you live near the sea, make frequent trips to the beach, or are planning an island holiday this summer, chances are you're getting more out of it than just enjoyment. It has long been thought sea frolicking has many health benefits. 
Historically, doctors would recommend their patients go to the seaside to improve various "diseases of the glands", including scurvy, jaundice, leprosy and glandular consumption, which was the name for glandular fever at the time.
Using seawater for medical purposes even has a name: thalassotherapy.  
But does the evidence actually stack up? Does seawater cure skin conditions and improve mental health symptoms? 
Skin conditions and wounds:

Ocean water differs from river water in that it has significantly higher amounts of minerals, including sodium, chloride, sulphate, magnesium and calcium. This is why it's highly useful for skin conditions such as psoriasis.
Ocean swimming also has benefits for eczema, another immune-mediated condition.
Because it is rich in other mineral salts such as sodium and iodine, ocean water can be considered an antiseptic, meaning it may have wound-healing properties. On the other hand, swimming in the ocean with open wounds may expose you to potential bacterial infections.

Hay fever and sinus issues:

Nasal irrigation, or flushing of the nasal cavity, with salty solutions is used as a complementary therapy by many people suffering from hay fever as well as inflammation and infection of the sinuses.  
This is because the saline effect on the lining of sinuses may reduce inflammation, although scientific evidence for this is less robust.
The director of clinical services at the medical charity Allergy UK claims people who live by, and swim in, the sea tend to have healthier respiratory systems. 
She says because seawater is cleansing and mimics the body's own fluids in the lining of the airways, it doesn't irritate them.
Meditation and relaxation:

Exercising in natural environments has been shown to have greater benefits for mental health than exercising elsewhere. This is because it combines the benefits of exercise with the restorative effects of being in nature. Swimming in the ocean is the same. 
It can be relaxing, meditative and reduce stress. In his 2014 book Blue Mind, marine biologist Wallace J. Nichols brought together evidence for why people find themselves in a meditative and relaxed state when they are in, on or underwater. 
One reason is the breathing patterns used during swimming and diving. These stimulate the parasympathetic nervous system (the system that controls organ function and quietens the brain) and have effects on brain waves and hormones that influence the brain positively. 
The weightlessness of water can also have a calming effect on the mind, even changing or slowing down brain waves. 
It can help provide a distraction from life, giving a sense of mindfulness, which is a state in which one is aware of one's surroundings in a meditative sort of fashion.
Hydrotherapy (water therapy) and swimming have also been shown to decrease symptoms of depression and anxiety. One study showed the effects of balneotherapy were comparable to a commonly used anti-depressant drug called paroxetine.
Coldwater therapy:

Cold-water swimming activates temperature receptors under the skin that release hormones such as endorphins, adrenalin and cortisol. These have therapeutic benefits for musculoskeletal conditions - such as fibromyalgia, which is a condition with chronic pain and tenderness all over the body - and skin discomfort. 
Recurrent cold water exposure may also lead to enhanced function of the parasympathetic nervous system, which helps with organ function. This has been linked to an increase in the release of dopamine and serotonin.
Depending on the temperature, swimming in colder waters will use up more calories to preserve body temperature - although the overall effect on fat mass is controversial. 
Frequent exposure to cold water has also been shown to increase the body's immunity.
Overall, it's a wise idea to make ocean swimming a healthy habit.  
This article was first published by NZ Herald and is republished here with permission.