This little girl's adorable 'interview' with her cat Coco has gone viral and we love it
Publish Date

Wednesday, 6 December 2017, 11:30AM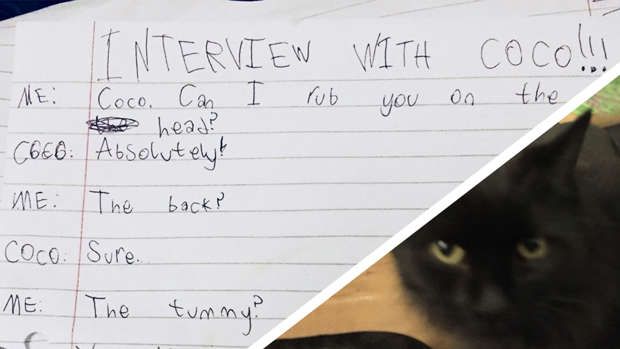 Kids really do the darndest thing, don't they?

One little girl has gone viral after conducting an adorable 'interview' with her pet cat Coco, and it's making us tear up with how hilarious it is.
The transcription of the budding young reporter's chat was read by her father who promptly posted it to Twitter.

"My kid did an interview her cat," @MrPaulDuance wrote alongside a picture of his daughter's handwritten note.
For those who have trouble deciphering the child's writing, the comical cat interview went like this:

Me: Coco, can I rub you on the top of the head?
Coco: Absolutely!
Me: The back?
Coco: Sure.
Me: The tummy?
Coco: YOU-ARE-FORBIDDEN-TO-EVER-TOUCH-MY-TUMMY!!!
Me: The legs?
Coco: NO!!!
Me: The tail?
Coco: ABSOLUTELY NOT!
Me: The butt?
Coco: IS THERE SOMETHING WRONG WITH YOU?!?! THIS INTERVIEW IS OVER!!!

What a wonderful sense of humour this young writer has!

To add to the cuteness @MrPaulDuane decided he'd let his daughter know she had gone "a bit viral" and her response is just the delightful as the girl hoped that maybe she would become "more famous than Jane Austen."
So sweet!