This mum said "yes" to everything her child wanted for 30 minutes
Publish Date

Tuesday, 24 October 2017, 2:55PM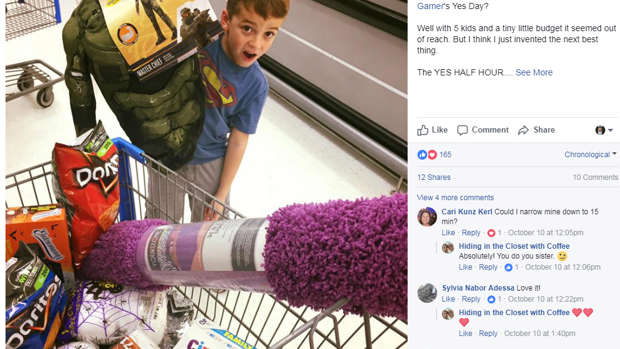 If you were to ask any kid what their number one issue with their parents was, it'd most likely have something to do with the use of the word "no".
Amy Betters-Midtvedt, the author of the blog Hiding in the Closet with Coffee, has recently raised eyebrows on Facebook when she shared an image of her son along with a story about what inspired her to participate in "Yes Day".
If you don't know what a Yes Day is, you can thank the amazing celeb mother of three, Jennifer Garner, for the concept. Recently, she decided to go a full day without saying the word "no" to her kids, by the end of it she was understandably exhausted. 
After seeing Garner's exhausted photo, Betters-Midtvedt was brave enough to give it a go herself- with a few adjustments. She decided her Yes Day would only last for half an hour (sounds reasonable to us).
"I loved the idea of being able to just say yes," Betters-Midtvedt tells Babble. "So often I have to say no because of life … no time, no money … and other times I find myself saying no too much, which was the case with our youngest."
She gathered all her energy and money with her son Sam. The pair headed out do some afternoon shopping with every question Sam asking, being replied with a yes.
According to her Facebook post about the trip, her cart ended up getting filled up pretty quickly...
"Yes to mummy hot dogs. Yes to two kinds of Doritos. Yes to Halloween themed mini soda cans. Yes to the army guy Halloween costume. Yes to the french toast bagels. Yes to the strawberry cream cheese. Yes to those annoying string spider webs that will never come out of my bushes. Yes to him … my boy."
Needless to say, her son was a BIG fan of the whole thing.
"So far I have only had a yes half-hour with Sam, but his Yes Day was a win for his siblings," Betters-Midtvedt shares. "They loved the weird dinner he picked out for everyone (when does Mom buy not one but two kinds of Doritos for dinner?? NEVER!) and they loved the new decorations he picked out. Sam walked around the store like he was 10 feet tall, getting some time to be the one who got to make the decisions was very empowering and also adorable to watch. I loved seeing his confidence in his choices."
We think this is a great idea, especially at the reasonable time of half an hour. Because who doesn't want to earn some well-deserved mum points now and then?