This raccoon has gone viral for the most heart warming yet crazy reason!
Publish Date

Thursday, 14 June 2018, 2:29PM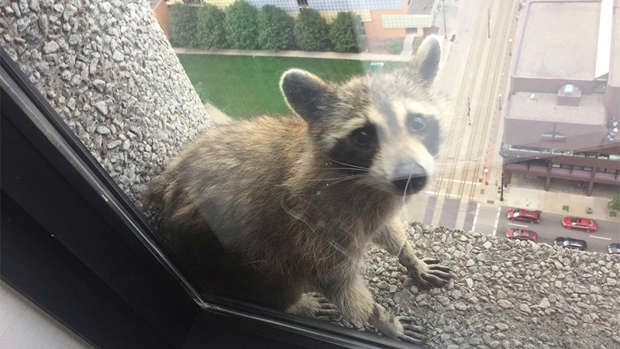 Overnight, while us Kiwis slept, the rest of the world became captivated with an adventurous raccoon who decided to climb a skyscraper.
Dubbed the MPR Raccoon, the one-year-old fearless female stole the headlines and captured hearts worldwide after she was spotted by a local radio station clinging to the side of the UBS Plaza building in Minnesota.
As locals anxiously watched on, the raccoon spent much of the day perched on a narrow ledge of the building, hunkering down between the 20th and 22nd floors where it apparently stopped for a nap.
As night time approached, the raccoon started to move again - dropping down to the 17th floor, which left followers excitedly anticipating her safe return to earth.
However, she later resumed an upward climb in the middle of the night.
So did the little fuzzball make it to safety?
Cameras caught her crawling into a rooftop trap containing wet cat food around 2:30am local time, bringing an end to a journey that was harder on onlookers than it was on the raccoon.
"We were all impressed by its ability to keep climbing," said St. Paul Mayor Melvin Carter. "We were all nervous and scared. Glad we got a happy ending."
Wildlife Management Services manager Christina Valdivia said the animal was likely drawn to the tower's loading dock to feast on pigeon eggs when it got spooked. That's when its "fight or flight" instinct kicked in, and the natural reaction was to start climbing.
Valdivia said the raccoon was in good condition when caught, adding that she would be checked out at the Wildlife Rehabilitation Center in Roseville before setting it free.
It has since been revealed the raccoon-turned-celebrity will be released "on private residential property in the southwest suburbs."