This spicy twist on the classic Kiwi roast chicken is a complete game-changer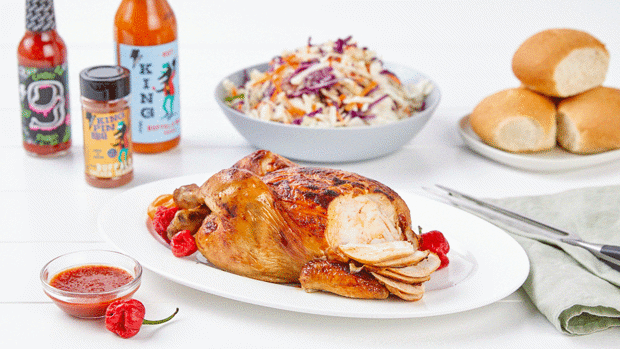 Mum and Dad's night off just got spicier – Culley's and Countdown bring you Ghost Chilli Marinade Hot Roast Chicken.
Culley's and Countdown have kicked things up a notch with a spicy twist on the quintessential Kiwi cuisine, the supermarket hot roast chicken.
The dependable saviour of tired parents, procrastinating potluckers and stressed-out students across Aotearoa is now available in a new limited-edition flavour: Ghost Chilli Marinade.
Featuring tender roast chick' infused with a fiery combo of Culley's Ghost Chilli Hot Sauce, Culley's Buffalo Wing Seasoning and Culley's Hot Buffalo Wing Sauce, the new flavour is perfect for a warming twist on lazy winter dinners.

Nikhil Sawant, Countdown's Head of Meat, says the delicious new chicken isn't for the faint of heart or those with sensitive tastebuds.
"It's not for the spice intolerant, but for those looking for a bit of heat through the colder months ahead, it's the perfect addition to the weeknight meal rotation – just add some rolls and coleslaw and you're sorted," says Nikhil.
If you're not too chicken to try it out – Ghost Chilli Marinade Hot Roast Chickens are available for $14.00 exclusively in Countdown stores.