This teddy bear's ridiculously long legs have sent the internet into hysterics
Publish Date

Tuesday, 14 November 2017, 12:00PM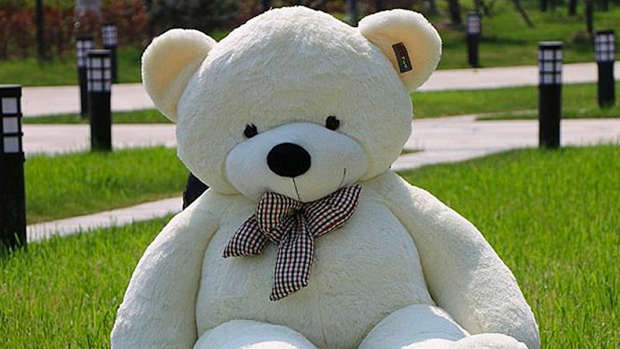 Amazon customers have been receiving quite the surprise after ordering a giant teddy bear from the online shopping site.
Despite looking like a proportional giant stuffed toy in pictures, Amazon's $109.99 six-foot Joyfay teddy bear has two unexpected standout features: its freakishly long legs, the Daily Mail reports.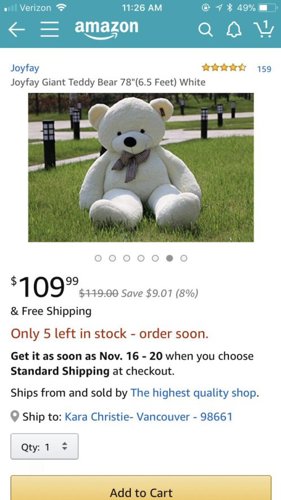 The 78inch-long bear's legs make up for 36 inches of its entire frame, leaving just 42 inches for its disproportionately small torso and head. 
Customers have been expressing their shock and laughter after receiving the bears through the mail.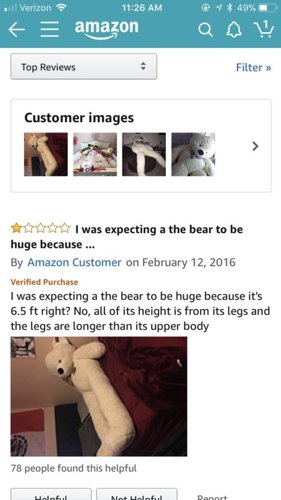 Some have suggested that the bear has the same torso and head as the company's four-foot-tall bear, and the added 2.5feet is all in the legs.
Others have jokingly placed the bear in strange positions, with its legs crossed or lying on a bed to show how truly ridiculous the stuffed item is.
Reviewers appear to have mixed feelings about the bear, with some saying it's 'big and soft', while others have called it 'hideous'.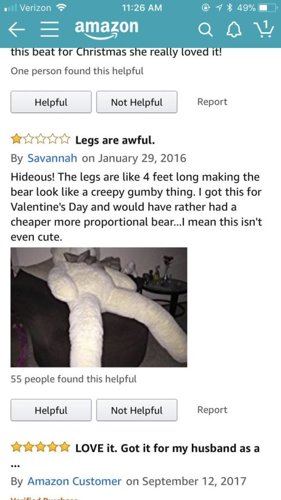 'I was expecting the bear to be huge because it's 6.5 feet right?' a one-star reviewer wrote. 'No, all of its height is from its legs and the legs are longer than its upper body.'
'Long legs but otherwise good,' another reviewer said.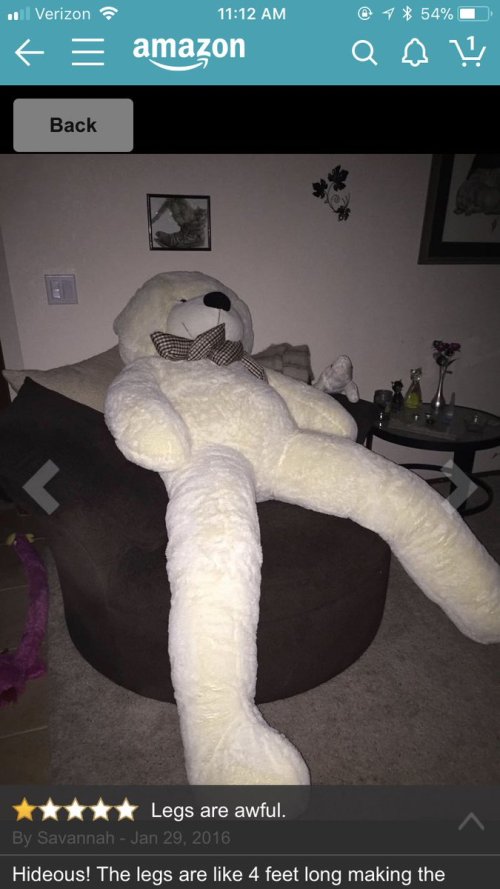 'Hideous! The legs are like 4 feet long making the bear look like a creepy gumby thing,'another one-star reviewer wrote. 
The reviewer added: 'I got this for Valentine's Day and would have rather had a cheaper more proportional bear...I mean this isn't even cute.'
Some suggested that the group selling the bear had deceived them into thinking the bear was proportional with picture angles.
'All of the pictures are taken at angles so you can't see that the bear is all legs. It's disproportional and creepy. I feel deceived by the picture. Considering returning,' a reviewer wrote.
People who have seen the hilarious photos, however, all seem to be considering buying themselves their own tall bear.
'I am seriously considering buying the big a** bear with long a** legs,' one person tweeted, sharing a review of the stuffed animal.
'I'm dying laughing at the teddy bear with human proportioned legs i'm acrually (sic) crying,' another person wrote.
'I've been ugly laughing at the huge bear with the long legs for 10 minutes and the cats are becoming concerned,' one Twitter user wrote.
This article was first published on Daily Mail and is republished here with permission.