This video of a boy helping Down syndrome girl overcome her rabbit fear will melt your heart
Publish Date

Friday, 10 November 2017, 10:30AM
Emotional viewers were left in tears as they watched a little boy help a girl with Down syndrome overcome her fear of rabbits in a heart-warming episode of The Secret Life Of 4-Year-Olds, reports the Daily Mail.
Fans tweeted that they were "bawling their eyes out" after Tomas helped his "best friend' Ada find the courage to stroke a pet rabbit, after she initially ran away scared.
Clutching a soft toy, he told her "rabbits don't eat humans... only carrots" before standing by her side as she gingerly touched the pet.
Child development experts, who are on hand to watch the children as they get to know each other at the school in Epping, Essex, commented that Tomas displayed huge amounts of empathy when he went to comfort the little girl.
The scene also moved dozens of viewers, who took to Twitter to praise Tomas and his newfound friendship.
One posted: "Awwwwwww Ada and Tomas are just the sweetest, my heart melted.'"
Another wrote: "Tomas and Ada so cute... that little boy is more empathetic than lots of adults I know."
A third tweeted: "Tomas, you are a true gentleman and well done for conquering your fear. Children really are fantastic aren't they."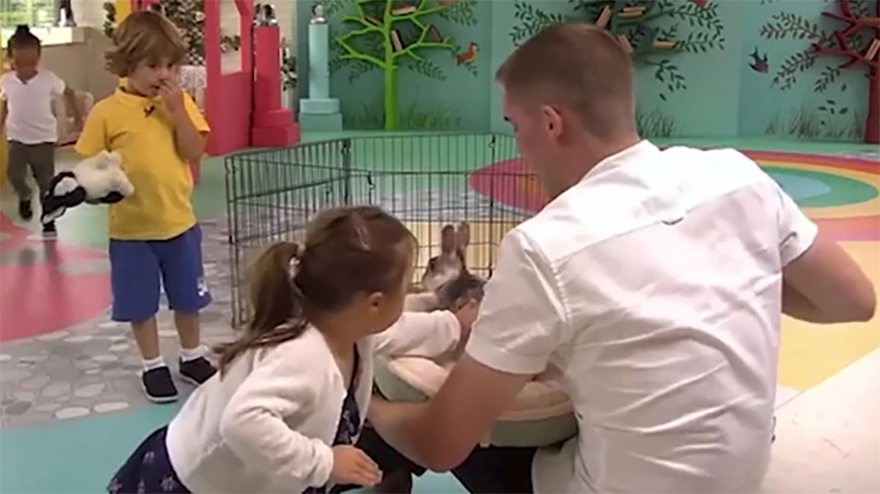 The act of kindness also won over Ada, who later told Tomas he was her "best friend".
Each year on the Channel 4 show, 10 4-year-olds gather at a school - this time in Epping, Essex - during the summer holidays, supervised by a couple of firm but kindly teachers and 30 multi-directional cameras dotted throughout the classroom and the playground.
All of the children featured in the Channel 4 show are stars in their own right but Ada quickly won over viewers with her big personality.
Parents Matt Dixon, 37, and Laura, 38, who also have a 6-year-old daughter, Sophie, previously told how they decided to apply for the show as a way of raising awareness of what it means to be a young child with Down syndrome - but also because they thought it would suit their daughter's big personality.
When asked whether she's a good girl or a naughty girl she replied "naughty girl" with the cheekiest of grins and a twinkle in her eye.
Ada initially struggled to find someone to play with at the nursery but by the end of the week had made firm friends with Tomas.
This article was first published on Daily Mail and is republished here with permission.