This woman was left blushing by her mother's x-rated 'floral' patterned pillows
Publish Date

Sunday, 31 December 2017, 8:30AM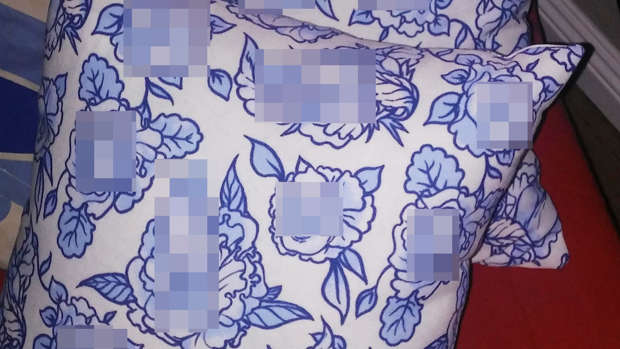 Warning: This article contains graphic content that may offend
A woman has been left red-faced after spotting a saucy pattern on her mother's new cushion covers.
Reddit user Waffle_Tw*** from Tucson, Arizona, couldn't resist snapping a photo of the soft furnishings adorned with what appeared to be a blue floral pattern.
On closer inspection, she discovered it bore some rather graphic phallic imagery cleverly disguised as a pretty rose print.
Flip to reveal (warning: graphic content)
"My mother bought these throw pillows," the Redditor wrote in a post which has caused quite a stir after racking up thousands of comments in a matter of hours.
One eagle-eyed user even appeared to have tracked down a retailer, LookHuman.com, where the household product is described as "floral penis pattern blue throw pillow" and sold for $27.99.
A short item description reads: "Looking for a new French toile pattern blanket for your couch? Something that is nice flowery and with mildly offensive genitalia to your mother once she stares at it too long? This subtle floral penis pattern is for you!"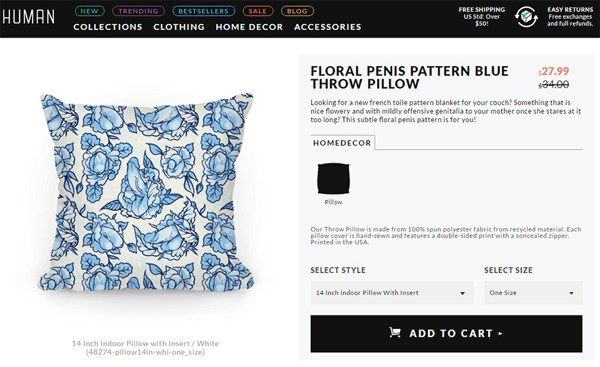 The fabric design is believed to be the work of Coey Kuhn (coeykuhn.tumblr.com) from Columbus, Ohio, who touts it as a "free penis pattern" for blogs.
Despite the graphic nature of the image, Redditors thought it was hilarious with some desperate to know where they could buy one for themselves.
One user, known only as taintsweater, said it would make the perfect wedding present for a friend while another said they were keen to snap one up for a retirement home they were decorating.
Others struggled to spot what was wrong with the print, with codst3r admitting: "I couldn't figure it out for the longest time. Then, I realised I'd been staring at a bunch of d***s for the past 5 minutes."
This article was first published on Daily Mail and is republished here with permission.