Toddler locks dad's iPad for over 48 years after entering wrong password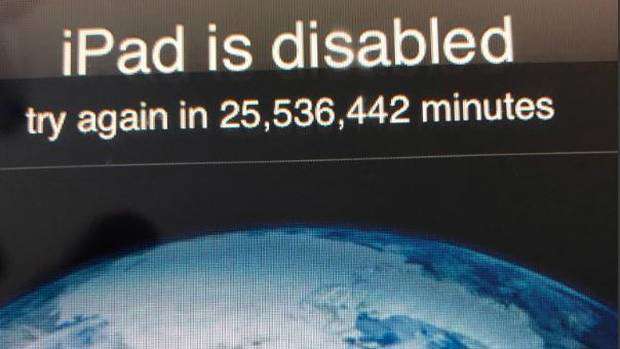 This father has learnt the hard way that he shouldn't leave his devices around for his 3-year-old to get their sticky hands on.
A New Yorker staff writer, Evan Osnos, shared his disappointment when his toddler disabled his iPad for more than 48 years after entering the wrong password numerous times.
"Uh, this looks fake but, alas, it's our iPad today after 3-year-old tried (repeatedly) to unlock. Ideas?" he asked on Twitter along with a photo of his iPad saying he couldn't disable it until another 25,536,442 minutes.
The more incorrect passwords typed into an Apple device, the longer the wait time is to try to unlock the device again.
Osnos' Twitter followers saw the funny side of the post, sharing not very useful solutions.
"Put it in a bag of rice," one person wrote.
Another joked: "Just wait the 48 years."
Another suggested that time travel seems was his best bet.
Others shared they have suffered through a similar painful process before as well.
After reading the comments, Osnos came to some sort of conclusion.
"On Twitter, people have suggested various fixes but the consensus seems to be that we're using an old operating system that won't let us restart fresh from iTunes," Osnos told the New York Daily News.
A few days later, the father said he finally in the process of restoring his iPad.
This article was first published on NZ Herald and is republished here with permission.