Try out this tasty Mediterranean Vege and Haloumi Traybake recipe from New World
While you are in your bubble, cooking is a great way to enjoy time together, and New World are firm believers that even the simplest of ingredients can create delicious meals! 
This Mediterranean vege and haloumi traybake is one of them!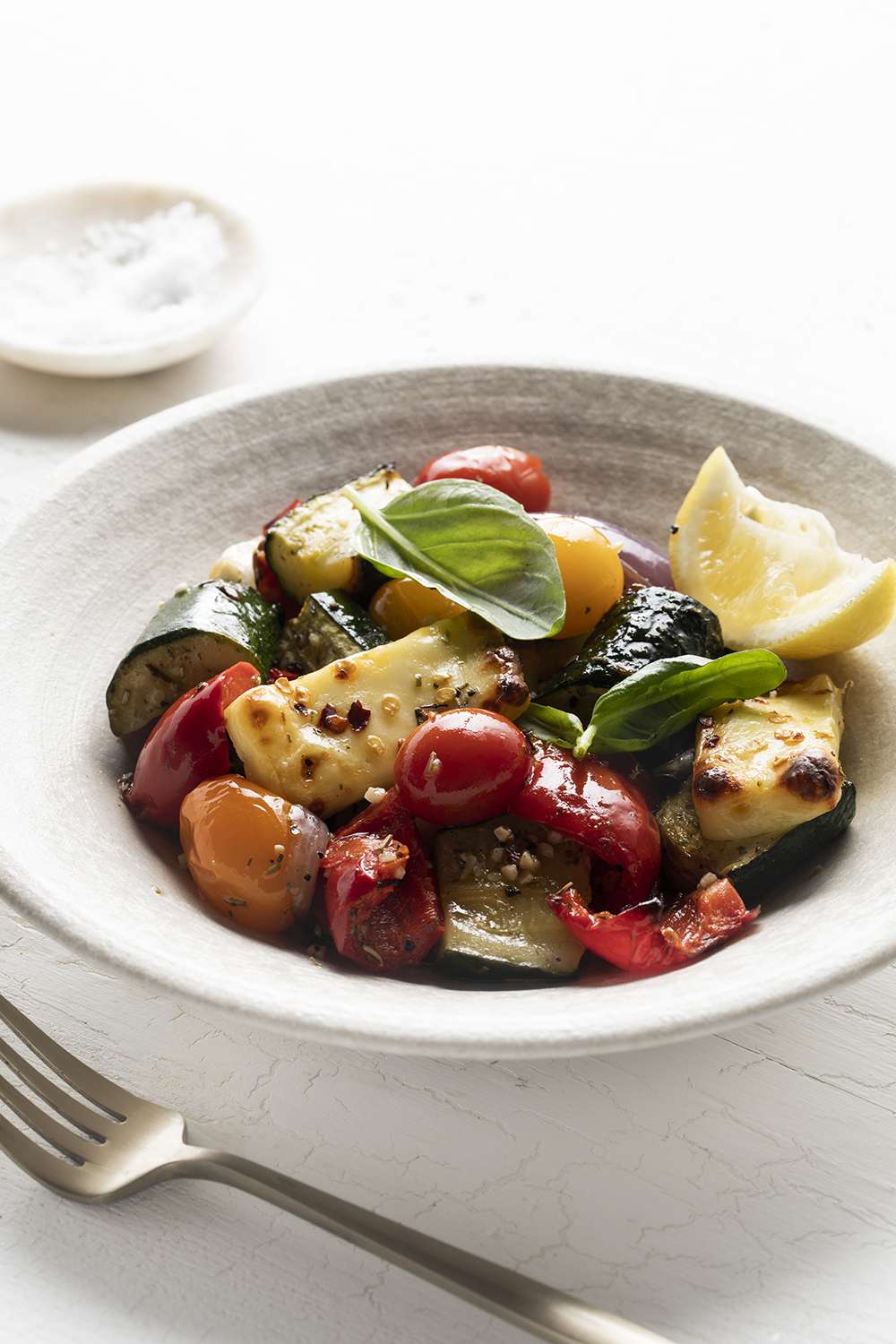 PREP TIME: 15mins
COOK TIME: 30-35mins
TOTAL TIME: 45-50min
SERVINGS: 4 people (approx).
INGREDIENTS:
4 courgettes, cut into chunks
1 red pepper, cut into chunks
1 red onion, cut into wedges
6 cloves garlic, unpeeled
¼ cup Pams Olive Oil
2 teaspoons Tuscan seasoning
250g mixed colour cherry tomatoes
200g haloumi, sliced into ½cm slices
1 teaspoon Tuscan seasoning, extra
½ teaspoon chilli flakes, or to taste
Fresh basil to garnish
Crusty bread and lemon wedges to serve
METHOD:
Preheat the oven to 200°C fan bake. Place the courgettes, red pepper, red onion and garlic in a large bowl. Add the olive oil and the 2 teaspoons of Tuscan seasoning and mix well to combine. Season to taste with salt and pepper. Transfer vegetables to a large shallow baking dish. Roast in the preheated oven for 18-20 minutes, or until the vegetables are lightly browned.
Add the cherry tomatoes to the pan and place the haloumi slices on top. Sprinkle over the extra Tuscan seasoning and the chilli flakes. Return to the oven for a further 10-15 minutes, or until the haloumi is golden.
Remove the pan from the oven and squeeze the softened garlic onto the vegetables. Garnish with basil and serve with crusty bread and lemon wedges.