Watch the cute moment Dwayne Johnson tries to convince his daughter he's Maui in 'Moana'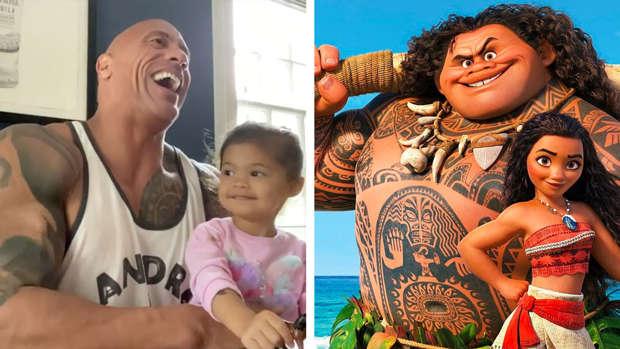 Every parent wants to be a hero for their kids, even Dwayne 'The Rock' Johnson who actually is a Disney hero.
But it seems the 48-year-old - who voiced the demi-god Maui in the hit Disney movie Moana - can't convince his daughter that it's him she's watching on the screen.
In a sweet video shared to Instagram, Dwanye holds his darling daughter Tia and sings You're Welcome from the animated flick.
After the song is over he asks the two-year-old if she thinks her daddy is Maui, and with a grin, she replies "no!"
Captioning the video post, The Rock joked: "Ladies & gents, my baby Tia finally believes ... oh wait. Never mind. She still refuses to believe the urban legend that her daddy is actually, Maui."
"At this rate, it's even pure speculation that her daddy is also The Rock. I'll happily take these L's and laugh as long as I get some daddy/daughter bond #3000timesandcounting."
Maybe when she's a little older she'll accept that it's really him. Fingers crossed for you, Dwayne!