Watch this toddler's hilarious rant about preschool
Publish Date

Thursday, 17 August 2017, 7:25AM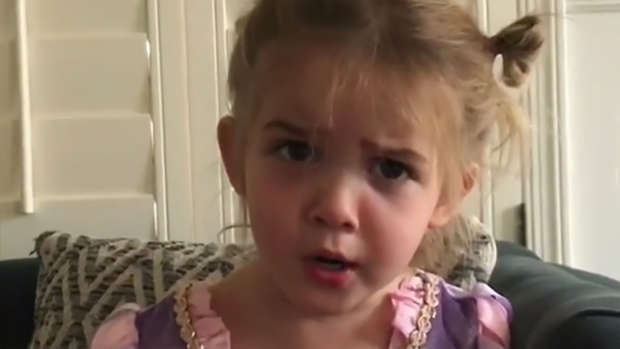 It's a princess tantrum at its finest.
Indeed, so impressive is adorably sassy two-year-old Mila Stauffer's furious fit that it is earning her more than her two minutes of viral fame, as people go gaga for a clip of the toddler's sassy attitude, with over two million views in a matter of days, reports the Daily Mail.
In a video posted to Instagram by her mother Katie, 39, from Arizona, the feisty tot can be seen sitting down on her couch, opening a mega-sized bag of popcorn, and unleashing a dramatic tirade about her terrible first day at preschool.
Mila clarified right off the bat: "My mum had some news for me, she signed me up for preschool. I told her I want to go to law school."
Serving up a dramatic face, she added: "She was like, 'No Mila, you're only two.'"
The tiny blonde with two little alien buns in her hair pointed her finger in the air and clutched a stuffed animal as she described her first day that left her "shook".
Don't even get her started on her teachers. The tot rolled her eyes and dismissed her instructors, insisting that "the teachers are shady, kids are insane..."
Indeed, it seems none of Mila's peers could match up to the little princess' standards, and she scathingly described how they were all throwing staplers and "pooping everywhere".
She threw her hand up to the camera to show how serious the matter is and explained, "I walk in and I'm like..." as she served the camera a massive diva face, complete with a perfectly-sassy hand placement.
"But I'm still alive" she exclaimed and threw her hand to her heart.
Then she was reminded of an incident during which her classmate Dave had started to expose himself, prompting the teacher to chastise him: "Dave, we don't pee on our friends."
"So now Dave is triggered," Mila continued, explaining that the traumatised Dave then chased the teacher with scissors.
Describing the total chaos that then ensued in her classroom, Mila explained to the camera that she felt she had no other choice but to take over the situation - with nothing but the utmost grace and charm, of course.
"It was a mess," she insisted. "I had to do something!"
Pausing the story to get up off the couch and collect herself a fresh bag of chips, Mila delivered the final line of her story.
"So I yelled nap time ... checkmate!" she quickly finished her story, while grinning at the camera.
 This article was first published on Daily Mail and is republished here with permission.