Whittaker's is releasing a new recipe 'Hokey Pokey' chocolate slab with extra crunch!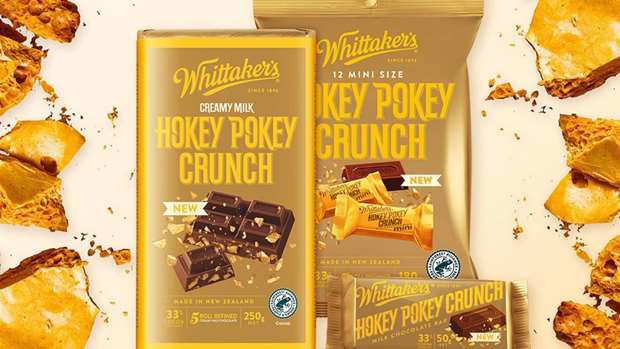 What your chocolate with even more hokey pokey?! Um … Yes please! 
Whittaker's has revealed that it will be releasing a brand new Hokey Pokey chocolate slab featuring even more crunchy goodness that Kiwis love.
The new and improved recipe features super-aerated honeycomb pieces encased in Whittaker's finest 33 per cent cocoa Five Roll Refined Creamy Milk chocolate, delivering the perfect balance between creamy and crunchy.
Whittaker's Co-Chief Operating Officer Holly Whittaker says the new crunch really takes the Kiwi classic to a new level.
"We hope Whittaker's Chocolate Lovers will agree our new Hokey Pokey Crunch is just as delicious but a lot more crunchy than before, delivering an all-round better sensory experience, encompassing both texture and taste."
As always, the New Zealand chocolatiers have got the help of high-profile Whittaker's fan Nigella Lawson to promote the new chocolate slab.
"Nigella has been a delight to work with on this campaign. As well as her genuine passion for Whittaker's Chocolate she always brings absolute professionalism," said Holly. 
Whittaker's new Hokey Pokey Crunch will be available in supermarkets nationwide from Monday 24 May.