Why these school boys are skirts is absolutely inspiring!
Publish Date

Sunday, 25 June 2017, 5:36PM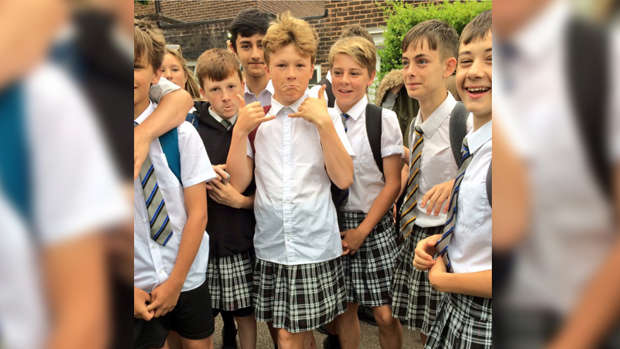 Schoolboys have turned up for class dressed in skirts in protest over a no-shorts uniform policy, despite the heatwave. 
Students at ISCA College in Exeter formed a mass protest over the 'inflexible' uniform policy which insists boys wear long trousers even throughout summer.
Yesterday, five boys led the way by wearing skirts on the hottest day of the year. 
Today, more than 50 decided to do the same, with some borrowing skirts off girls near the school to join the demonstration.
'The head teacher told them "Well you can wear a skirt if you like" but I think she was being sarcastic.
'However, children tend to take you literally and so five boys turned up in skirts - and because she told them it was OK there was nothing she could do as long as they are school skirts.
'One of the five boys did get in trouble - because it was too short.'
She added: 'Children also don't like injustice.
'The boys see the women teachers in sandals and nice cool skirts and tops while they are wearing long trousers and shoes and the older boys have to wear blazers.
'They just think it's unfair that they can't wear shorts in this heat.
'They are doing this to cool down - but also to protest because they don't feel they have been listened to.' 
Several people support the boys on Twitter. Dave Lisney said: 'That's a stupid rule. Good on the fellas for protesting in such a creative way.'
Jerry Lonsdale said: 'Who on earth makes up these rules, surely health and well-being of children just as important as learning.'
This article was first published on dailymail.co.uk and is republished here with permission.