Woman fired over topless engagement photos with fiance
Publish Date

Tuesday, 3 October 2017, 10:59AM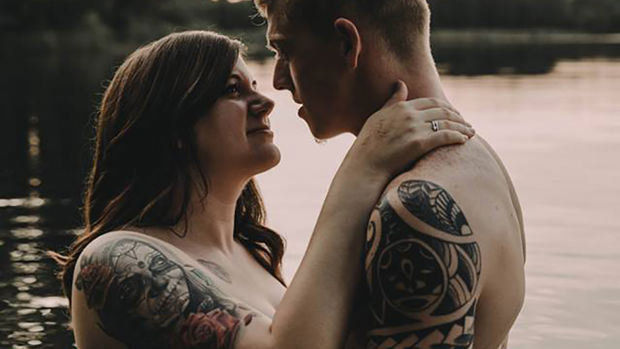 A plus-size woman says she has been fired from her bank job after her steamy topless photoshoot with her fiancé went viral.
Stephanie, from Texas, was widely praised for promoting body confidence after the pictures of her and her partner Arryn were shared online.
But she now says her employer has sacked her because they believed the shoot was "inappropriate" for a "family-oriented" company.
The bank worker, who is five months pregnant, describes herself as a "model employee" and says the decision by Austin Bank Texas N.A to fire her was "hurtful".
Stephanie told Buzzfeed: "They said I was topless and it was inappropriate and we're a family-oriented company."
She added: "I was a model employee, I was moving up fast. I had a promotion within seven months. This one thing, for me, was the reason I was booted."
MailOnline has contacted Austin Bank Texas N.A for comment.
The photoshoot, taken by Bria Terry of Wolf & Rose Photography, has been shared more than 85,000 times since the photographer shared the stunning lakeside images on her Facebook page.
Describing her reaction to the seeing the images for the first time, Stephanie told HuffPost: "I honestly have never felt more attractive.
"I was so nervous to see the final result. I didn't know what to expect. But when I saw the album, I was shocked."
She added: "I look so in love and confident. Every person should be able to see themselves in that light. It is really eye-opening."
Social media users were quick to react to the images, admitting that they wished they had the confidence to do something like that.
"This makes my heart so happy and gives me hope as a plus size woman that not all men care about what size you are," Samantha Shipley wrote.
"This is so perfect," Seana Beluke added. "Their love for one another shines so bright that nothing else in the world matters, especially not the opinions of those who would try to bring them down. You did a wonderful job of capturing that connection."
Stephanie and Arryn got engaged in February, and they plan on saying "I do" in February 2019.
This article was first published on dailymail.co.uk and is republished here with permission.