Woman selflessly proceeds with pregnancy after getting news that no mother wants to hear
Publish Date

Thursday, 23 February 2017, 11:15AM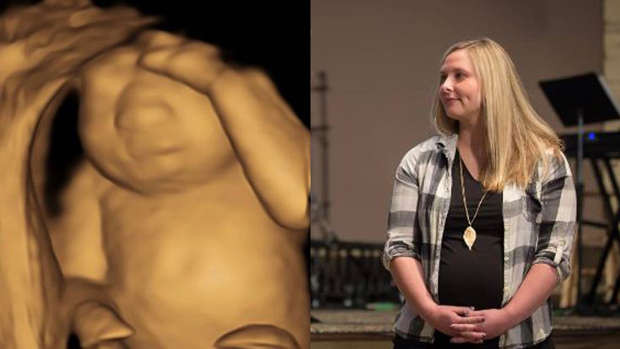 Usually when you post an ultrasound picture to Instagram, it's accompany by a cheerful caption and a lot of congratulations coming from the comments.
But Keri Young's post wasn't one of those posts.
Rather than visions of a bouncing baby girl on the way, Keri would only have a few hours with her precious bundle before handing her over for her organs to be donated. She wrote:
Keri's husband Royce was just as heartbroken by the news. But after the ESPN sports writer met with "this awesome kid name Jarrius" who was waiting on a liver transplant, he decided to pay tribute to how amazing his wife is:
"The other night, before I left for New Orleans, I was watching my beautiful wife sleep peacefully on the couch," he wrote.
"I looked at her laying there, her belly big with our daughter kicking away, a daughter that won't live more than a few days, and it just overwhelmed me of how incredible this woman is. I thought back to the moment where we found out Eva wasn't perfect, and how literally 30 seconds after our doctor told us our baby doesn't have a brain, somehow through full body ugly crying, Keri looked up and asked, 'If I carry her full term, can we donate her organs?' I remember our doctor putting her hand on Keri's shoulder and saying, 'Oh honey, that's so brave of you to say'. Like, how nice of you, but come on. Keri meant it."
Needless to say, his wife's almost immediate reaction wasn't what Royce expected:
"There I was, crestfallen and heartbroken, but I momentarily got lifted out of the moment and just stood in awe of her. I was a spectator to my own life, watching a superhero find her superpowers. I've had a lot of moments stop me in my tracks where I thought, 'holy crap, this woman I'm married to, lucky me'. But this one was different. It hit me that not only am I married to my very best friend, but to a truly remarkable, special human being."
After bringing Eva into the world, Royce explains that Keri will still be left with the toughest of post-birth challenges but "with no snugly, soft, beautiful newborn to look at to remind you that it was all worth it."