Woman shares her deliciously simple recipe for Caramilk and Mars Bar 'sausage rolls'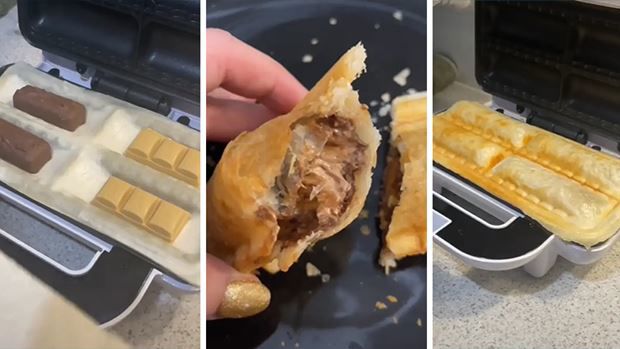 If you're a Caramilk chocolate lover, be prepared to have your mind blown.
An Australian woman has gone viral online after unveiling her delicious looking recipe for what she's dubbed Caramilk and Mars Bar "sausage rolls".
Sharing her delectable and surprisingly simple recipe on TikTok the woman showed how she used blocks of chocolate, puff pastry and a $20 sausage roll maker from Kmart to create the indulgent treats.
Our mouths are already watering … 
The quick clip has been viewed more than 1.8M times on the social media site since it was first uploaded.
If you want to try the recipe out yourself all you need is:
2 Mars Bars
2 rows of Cadbury Caramilk
1 sheet puff pastry
Kmart sausage roll maker
Then simply put half a sheet of puff pastry over the Kmart sausage roll maker, followed by the Caramilk, Mars Bar - or really any chocolate you'd like.
Next, add the other half of piece over top and cook until it's crunch golden on the outside and gooey on the inside.
Enjoy!