Woman's giant cat goes viral for weighing more than a toddler! 'Everyone confuses him with a dog'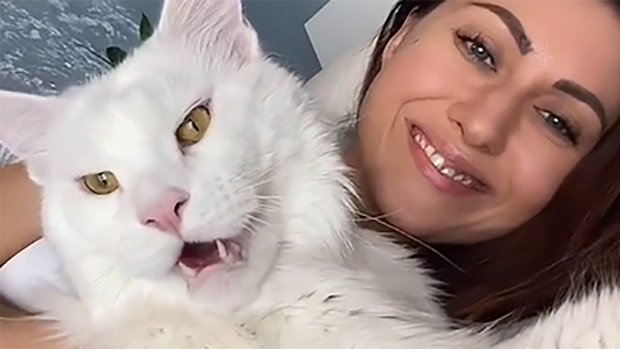 If you love a good viral internet cat, today you're in for a treat!
One women's cat has left everybody floored after adorable and unbelievable photos and videos were shared on social media showing off his incredible size.
Kefir the white Maine Coon who is less than 2 years old weighs a staggering 12.5kgs – roughly the same as your average toddler - and is expected to keep growing over the next two years.
According to the giant floof ball's owner, Yulia Minina, Kefir – who she has raised since he was a tiny kitten – has gotten so big that people often mistake him for a dog!
"I could not even think that an ordinary baby can become so big," Yulia told South West News Service.
"He not only grew up big in appearance, he is also very smart and always behaves calmly.
"The look is generally like that of a person, and Kefir has a formidable appearance, but he is a very affectionate and modest child.
"When friends and acquaintances come to the house - all the attention is on him and he willingly allows himself to be stroked.
''But when strangers come to the house, everyone first confuses him with a dog.
"He has one more habit: at night he likes to climb on me and sleep. When he was a kitten, it didn't cause me any inconvenience.
''But now he has become big and heavy, and, of course, it is difficult to sleep like that.
"Kefir is now one year and ten months old and weighs 12.5kg.
''He is still considered a kitten. Maine Coons grow up to three to four years. Therefore, I think it should become even larger."
All we can say is … wow!